Picture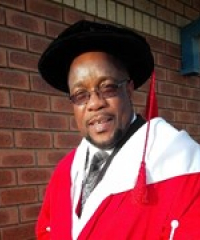 Position
Senior Lecturer & Head of Department
Office
Block 240 Office 238
Phone
Tel: 3552710 Mobile:72467284
Professional Qualifications
PhD  (Demography & Population Studies), University of the Witwatersrand (WITS), Johannesburg, SA, 2011
MA     (Demography), Georgetown University, Washington DC, USA, 1992
BA      (Demography & Economics), University of Botswana, Gaborone, Botswana, 
Brief Biography
Dr Rakgoasi is an ardent researcher and academic with close to 25 years of university teaching experience and research experience. 
His areas of research interest include applied demography; adolescent sexuality; sexual and reproductive health and HIV/AIDS. His PhD thesis examined the role of men and masculinities in sexual and reproductive health in Botswana, with a focus on HIV/AIDS.
He has provided professional service and technical assistance in areas such as data collection; data management &  analysis; Monitoring and Evaluation and conducted numerous social impact and policy analysis studies, especially in the area of HIV/AIDS social research for the various government departments and development partners in Botswana.
Some of his research work has been published in renowned international academic and scholarly journals. He  has published three (3) book chapters; four (4) Chapters in technical reports; five (5) monographs; Sixteen (16) journal articles; twenty-two (22) conference proceedings and twenty-one (21) technical reports
 
Teaching Areas
Courses ever taught at University level:
Introduction to Demography & Epidemiology; Demographic Aspects of HIV/AIDS; Demographic Data Analysis & Report Writing; Demographic Techniques; Research Methods; Computer Applications in Demographic Data Analysis (Quantitative & Qualitative); Demographic Aspects of HIV/AIDS; Sources, Adjustment, Evaluation and Analysis of Demographic Data; Computing for Demographers & Demographics / Applied Demography 
Research Areas
Applied Demography / Demographic

HIV/AIDS

Sexual & Reproductive Health

HIV/AIDS

Adolescent Sexuality

Gender & Gender Based Violence

Men & Masculinities

Social Impact Assessment/ Policy Analysis
Postgraduate Supervision Areas
Non-Communicable Diseases

HIV/AIDS 

Sexual & Reproductive Health

HIV/AIDS 

Health Care Utilization

Adolescent Sexuality

Gender Roles & Gender Based Violence

Social Impact Assessment/ Policy Analysis

Applied Demographics 
Selected Publications
Keetile, M., Navaneetham, K, Letamo, G, & S.D.

RAKGOASI

. (2019). Socioeconomic inequalities in non-communicable disease risk factors in Botswana: a cross-sectional study. BMC Public Health 19(1): 1060.https://doi.org/10.1186/s12889-019-7405-x 

Keetile M, Navaneetham K, Letamo G., Bainame K, &

RAKGOASI

S.D

et al. (2019) Socioeconomic and behavioural determinants of overweight/obesity among adults in Botswana: a cross- sectional study. BMJ Open. 2019;0 :e029570. doi:10.1136/bmjopen-2019-029570.

Bowelo M,

RAKGOASI SD

, and Keetile M. (2019) Partner faithfulness and sexual reproductive health practices in Botswana: does perception of partner infidelity influence sexual risk behaviours of people aged 10–34 years in Botswana? Journal of Biosocial Science. https://doi.org/10.1017/S0021932019000622

S. D Rakgoasi

,

Mpho Keetile (2016) "They are less worthy than us, but they are better than women…." Attitudes towards Homosexuality & Men Who Have Sex with Men