Picture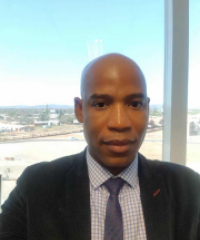 Position
Academic Head(Chair) of Department/Senior Lecturer & Consultant Paediatric Endocrinologist
Office
Office F4049, Third Floor, Sir Ketumile Masire University Hospital
Professional Qualifications
Bachelor of Medicine (BCh), Bachelor of Surgery (BCh), Bachelor of Art in Obstetrics (NUI)  - 2002
Bachelor of Medical Science (NUI) - 2002
Member of the Royal College of Physicians of Ireland - Medicine of Childhood - 2005
Clinical Fellowship in Paediatric Endocrinology (PETCA) - 2011
Brief Biography
Dr Dipesalema Joel is the current Academic Head of Department of Paediatrics and Adolescent Health, Senior Lecturer and Consultant Paediatric Endocrinologist in the Faculty of Medicine at the University of Botswana.
Dr Dipesalema Joel qualified with Bachelor of Medicine (MB), Bachelor of Surgery (BCh), Bachelor of Arts in Obstetrics (BAO) and Bachelor of Medical Sciences (B Med Sc) from the University College Cork, Ireland in 2002. He did medical internship in Cork University Hospital and Kerry General Hospital from 2002 to 2003. Following the completion of medical internship training, he did speciality training in Paediatrics in Ireland. He was awarded the Membership of the Royal College of Physicians of Ireland – Medicine of Childhood in 2005. He did sub-speciality clinical fellowship training in Paediatric Endocrinology at the Paediatric Endocrinology Training Centre for Africa (PETCA) in Nairobi, Kenya, under the auspices of the European Society for Pediatric Endocrinology (ESPE), International Society for Pediatric and Adolescent Diabetes (ISPAD) and the University of Nairobi. He qualified with distinction, emerging top of his class in 2011.
Awards and recognition for Dr Dipesalema Joel include "Distinction Award in Paedaitric Endocrinology" in 2011, University of Botswana and NACA "Red Ribbon Award as the HIV and AIDS International Research Champion" in 2016, American Association of Program Directors' "Global Educator Award" in 2020.
Teaching Areas
Dr Dipesalema Joel teaches both the MBBS and MMed students. He teaches Paediatric Endocrinology and General Paediatrics though Problem Based Learning sessions, bedside teaching, seminars, lectures and deductive teaching through the clinical ward rounds and outpatients exposure. He supervises and mentors MMed students in Paediatrics and Adolescent Health.
Research Areas
Dr Dipesalema Joel has authored or co-authored more than 80 publications in the scientific literature including the book chapters on "Normal Puberty" in the Encyclopaedia of Endocrine Diseases 2nd Ed, "Local is Global; Tools to Approach Youth of all Context" in Reaching Teens – 2nd Ed. His research interest is in growth disorders, diabetes, puberty, in-born errors of metabolism, HIV and tuberculosis. He serves as a reviewer for several international journals including PLoSONE, BMC, IJTLD and PCD
Postgraduate Supervision Areas
He has been the main supervisor or co-supervisor for more than 10 post-graduate MMed students, who successfully earned their MMed degrees. Dr Dipesalema Joel has served in various international professional organizations including, being the President of the African Society for Paediatric and Adolescent Endocrinology (ASPAE) from 2018 – 2020. He is current Chairman of Botswana Paediatric Association and the Diabetes Association of Botswana.
Selected Publications
Gezmu AM, Shifa JZ, Quinn GE, Nkomazana O, Ngubula JC, Joel D, Banda FM, Nakstad B. Incidence of Retinopathy of Prematurity in Botswana: A Prospective Observational Study. Clinical Ophthalmology. 2020 Aug 24;14:2417-25.
Gezmu AM, Kung SJ, Shifa JZ, et al. Pediatric Spectrum of Allergic Diseases and Asthma in a Tertiary Level Hospital in Botswana: an Exploratory Retrospective Cross-Sectional Study. J Asthma Allergy. 2020;13:213-223. Published 2020 Jul 1. doi:10.2147/JAA.S253618
Hamda SG, Tshikuka JG, Joel D, et al. Contribution of Xpert® MTB/RIF to tuberculosis case finding among pregnant women in Botswana. Public Health Action. 2020;10(2):76-81. doi:10.5588/pha.19.0077
Hamda SG, Tshikuka JG, Joel D, Monamodi G, Masupe T, Setlhare V. Sociodemographic Predictors of HIV Infection among Pregnant Women in Botswana: Cross-Sectional Study at 7 Health Facilities. J Int Assoc Provid AIDS Care. 2020;19:2325958220925659. doi:10.1177/23259582209256