Picture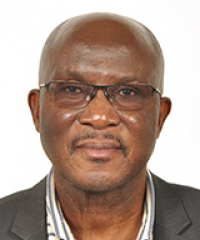 Professional Qualifications
PhD in Economic History
MA in History
Post Graduate Diploma in Education (PGDE)
BA History & English
Brief Biography
Glorious Bongani Gumbo
Glorious Bongani Gumbo is a Senior Lecturer in the Department of History. He obtained his BA, PGDE and MA from the University of Botswana, PhD from the University of Cape Town.
His research interests, largely on Economic History, include Livelihoods of riparian communities in Botswana, Tourism development, Wildlife conservation, Southern African Liberation History and Botswana's role therein. He has published widely in both local and international (peer-reviewed) journals, book chapters and conference proceedings. Gumbo has also been engaged as External Examiner for Honours, MA and PhD theses for various southern African universities.
His community service includes being a member of the Disciplinary Committee (Botswana National Sports Commission – BNSC), a member of the Standing Committee (History, Ministry of Basic Education), and also a member of the Broadhurst UCCSA Church choir, singing for charity. A former church deacon, he occasionally preaches at choir events as well as Director of Ceremonies in church activities in Brodhurst church.  He was also a member of the History Department staff engaged by Debswana to document the relocations when the mine started its operations around Jwaneng.
Office: 3552184
Mobile: 71615316
Email: gumbo@ub.ac.bw
Teaching Areas
Economic History
Research Methods
Historiography of southern Africa
Research Areas
Livelihood strategies of Riparian communities (Chobe & Ngamiland)
Wildlife conservation & Tourism in Botswana
Southern African Liberation and Botswana's role
Food Security in Botswana
Postgraduate Supervision Areas
Diplomatic Relations between Botswana and Namibia in the 1990s (MA)
History Teaching in Botswana's Secondary Schools (PhD)
Selected Publications
Gumbo, Bongani,(2012), 'Combining Multiple Livelihood Strategies in Cross-border Trade at Kasane, 1980-2000', Botswana Notes & Records, Vol. 44, pp. 60-69.
Gumbo Bongani, (2014), 'Southern African Liberation Wars: The Halting Development of Tourism in Botswana, 1960s-1990s', South African Historical Journal, Vol. 66, pp.572-587.
Gumbo Bongani, (2014), 'Gendered Livelihoods and State Intervention in Fishing and Handicraft Production in the Wetlands of Ngamiland, 1971-2000', BOLESWA: Journal of Theology, Religion and Philosophy, Vol. 4, pp. 89-112.
Gumbo Bongani,(2020), 'Historical Evolution of conservation and tourism in Southern Africa: the case of Botswana', book chapter in M.T. Stone, M. Lenao & N. Moswete, (eds), Natural Resources, Tourism and Community Livelihoods in Southern Africa: Challenges of Sustainable Development.