Picture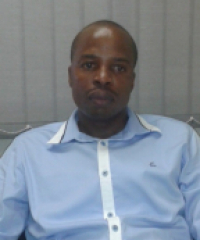 Brief Biography
Mr Mogotsinyana Mapharing joined University of Botswana in January 2012 as a Lecturer in Finance in the Department of Accounting and Finance, Faculty of Business. He is currently working as a Senior lecturer in the same department. Prior to that, he has worked as accounts executive at Botswana International University of Science and Technology. He also worked as part-time lecturer at BCET. He is also currently teaching part-time at DABS and CCE. Mr Mapharing has about seventeen academic journal publications, seven conference proceedings and has acted as a module writer and reviewer at CCE. He also supervised MBA dissertations. His key areas of research are in Financial literacy and entrepreneurship, Capital markets,and Banking and Insurance. He has serviced both the Univeristy and the Community at various capacities since joining UB.
Mr Mapharing holds a Masters of Business Administration from University of New Brunswick-Canada, and a Bachelor of Science in Business Administration, majoring in Finance and Economics from Old Dominion University, USA. He also holds a Post graduate Diploma in Education (PGDE) from University of Botswana and Diploma in University teaching (DUT) from University of New Brunswick.
Teaching Areas
1. Financial Institutions and Markets
2. Financial Management
3. International Finance
4. Financial Planning and Forecasting
5. Financial Theory and Analysis
6. Real Estate Finance
Research Areas
1. Banking and Insurance
2. Capital Markets
3. Financial Literacy and Entrepreneurship
4. Working Capital Management
Postgraduate Supervision Areas
1. Banking and Insurance
2. Capital Markets
3. Financial Literacy
4. Capital Structure
Selected Publications
Mapharing, M., Basuhi, E. J., (2017) "Electronic banking and financial performance: Botswana Context." Journal of Accounting, Business and Finance Research, Vol. 1, No. 1, pp. 84-93. DOI: 10.20448/2002.11.84.931.
Mapharing, M., Otuteye, E., Radikoko, I. (2015) "Determinants of demand for life insurance: The case of Canada." Journal of Comparative International Management; Vol. 18 (2), 1-22
Sathyamoorthi C. R., Mogotsinyana Mapharing., Mphoeng Mphoeng., Mashoko Dzimiri. (2019). Impact of Financial Risk Management Practices on Financial Performance: Evidence from Commercial Banks in Botswana. Applied Finance and Accounting, 6 (1), 25-39. DOI: https://doi.org/10.11114/afa.v6i1.4650

Radikoko, I., Gaolatlhe, A. O., Dzimiri, M. T., & Mapharing, M. (2018). "Assessing the contribution of the capital markets on the economic growth of Botswana". Archives of Business Research – 6(12), 290-302.