Staff Profiles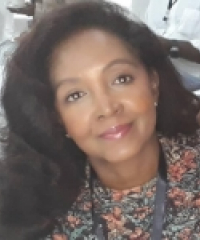 Prof. Doreen Ramogola-Masire
Department:
Faculty of Medicine
Office:
SKMTH 3rd Floor, Office 4073
Dr. Doreen Ramogola‐Masire is an assosciate professor of Obstetrics and Gynaecology, and  deputy dean for research and graduate studies at the University of Botswana, faculty of medicine. Her main interest is in point of care screening modalities that are suited to low resource settings for prevention of cervical cancer especially in HIV-infected. She has extensive experience establishing and managing cervical cancer screening programs in Southern Africa, and was the key technical expert who assisted the Botswana Ministry of Health and Wellness (MOHW) to roll out cervical cancer prevention services, including the national HPV vaccination programme.
Current Research studies:
1. Co-PI of an NCI-funded  U54 grant, a collaboration between University of Botswana (Faculties of Education and Medicine) and University of Pennslyvania (USA).  This supports three large studies on cervical cancer and HIV, focusing on HPV-associated cervical cancer in HIV positive patients, as well as building research capacity in Botswana through a strong emphasis on mentoring and education.
2. PI of  NCI-funded P30 grant, a collaboration between University of Botswana and MD Anderson Cancer Centre, University of Texas. This compares vaginal microbiome profiles in HIV-infected women with HPV-ssociated cervical pre-cancer and cancer in Botswana and Houston. 
☰