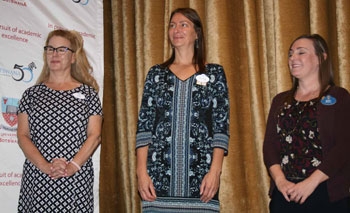 Scores of potential students from different parts of Africa converged on the University of Botswana Conference Centre on August 24, 2018 to be quizzed for a 12-month internship at the world renowned Walt Disney Company in the United States of America.
The interviews attracted fourth-year UB Tourism and Hospitality students in the Faculty of Business and others from Ghana, Rwanda, Nigeria, Kenya, Tanzania, Zimbabwe, Zambia, Malawi, Namibia, Angola and South Africa.
The Walt Disney Company is an American establishment operating around the world and, together with its subsidiaries and affiliates, it is a leading diversified international family entertainment and media enterprise with a number of business segments. These include media networks, parks, experiences and consumer products as well as studio entertainment.
The interview session was organised by the UB Department of Tourism and Hospitality in conjunction with the Careers and Counselling Centre. The Walt Disney Company was represented by international recruitment team members, Ms Jill Jacobsen; Ms Katy Kreco from the Animal, Science and Environment Programme and Ms Regina Maluta from the International Recruitment Culinary Training Programme.
Speaking at the event, Head of the Department of Tourism and Hospitality, Ms Montle Siya, a Disney alumni, urged the interviewees to make use of the Disney Internship Training programme to build upon skills they learnt in class within a family of legendary brands passionate about creating world class experiences on a global scale.
"The five to seven months training programme with Disney Company will allow participants to network with leaders, take part in personal and career development classes, and build transferable skills such as problem-solving, teamwork, guest service and effective communication," said Ms Siya.
Career and counselling Centre Director, Dr Lucky Odirile, urged those who would be enrolled for the internship to return home upon completion of training in the USA to contribute towards the development of their home countries.
Dr Odirile said assured the participants once-in-a-lifetime opportunity in the US as they would learn from one of the world's most innovative entertainment companies. "You'll also gain valuable leadership, presentation and customer service skills, all things that Disney is known for worldwide," she said.
Meanwhile, Ms Jacobsen noted that the participants would have the opportunity to share unique cultures and customs of their countries with guests, while working in different frontline and guest facing roles.
Similarly, Ms Maluta said the internship programme allowed international culinary participants to gain exposure to all areas of the kitchen operation, including the ability to understand financial aspects of a food and beverage operation.
"Participants are exposed to various food stations within the kitchen and become familiar with the menu and products of the restaurant. The participant will refine culinary skills within the kitchen department," said Ms Maluta.
As for Ms Kreco, she said Disney's Animal Programme was responsible for the care and welfare of animals across Walt Disney Animal Kingdom Lodge. She added that Disney's Animal Programme also shared conservation messages with guests, the cast while championing the wise use of resources across the Walt Disney World Resort Property.