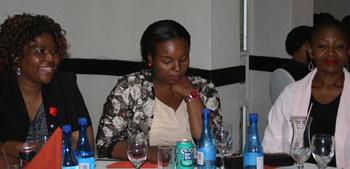 The Vice Chancellor, Professor David Norris, has appealed to University of Botswana alumni to help the University realise its vision of becoming a research intensive institution. Professor Norris said as a research intensive institution, the University would have capacity to come up with well-researched innovations that could be commercialised to help drive Botswana's economic diversification process.
Addressing UB Alumni in Selebi Phikwe on May 29, 2018, Professor Norris said UB would be able to reach such milestones if it were to grow its graduate programmes to increase research output. He was quick to point out that it would be through such research that day to day problems and challenges the country was grappling with could be adequately addressed.
Professor Norris noted that as a key player in the development process of the country, UB had a unique role to assist in the country's economic diversification programme to lessen dependence on mining. He added that for any country to advance economically, it should be supported by research that impacted positively on people's lives.
The Vice Chancellor said he had advised UB staff to come up with research that had the potential to add value to transform people's lives instead of research that only gathers dust in libraries.
In addition, Professor Norris said it was only through research that the University would be able to complement Government initiatives of making Botswana a knowledge-based economy. He disclosed that UB was re-engineering its process to keep pace with new developments.
For instance, he said government could have avoided closure of the BCL mine had there been research on the beneficiation of copper and nickel to produce copper wires, pipes and other commodities locally.
Professor Norris called on UB alumni to come up with business initiatives to assist in job creation because Government alone could not manage. He said the University of Botswana was willing to assist with expertise. He observed that the University was currently working on research for a certain Tlokweng-based man to establish medicinal properties, and scientifically quantify his herbal products. He added that such would help the herbalist commercialise and even export his products.