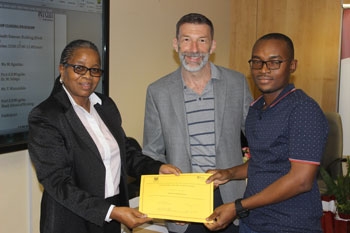 University of Botswana School of Nursing in partnership with University of Pennsylvania School of Nursing recently brought nurses from various medical institutions across Botswana under one roof to equip them with knowledge and skills on evidence-based care of trauma patients.
The four-day Trauma Nursing Workshop held at the University of Botswana exposed participants to principles of trauma care, systematic primary and secondary assessment of trauma patients and evidence-based trauma nursing care contingent with the capacity and resources of different health facilities.
They were also mentored on how to apply trauma guidelines besides identifying psycho-social issues affecting patients, caregivers and health care providers.
Speaking at the official opening of the workshop, UPenn Chief Nursing Officer, Mr James Ballingoff, gave an overview of the increasing impact of trauma as a leading cause of death in the 1-35 ages in the United States of America despite mitigation efforts.
Such has seen a close working relationship between the Department of Emergency Medicine and the Division of Trauma and Critical Care. "Together we deliver the highest quality of care to the entire spectrum of patients from minor lacerations and sprains to major multi-system trauma," said Mr Ballinggoff.
UB Dean Faculty of Health Sciences, Professor Johana Mashalla, said collaboration between UB and UPenn came as a result of routine consultative meetings between the two institutions. Consequently, Professor Mashalla said the workshop on trauma was a response to a number of issues raised during such meetings to improve trauma problems in Botswana.
"The trend of trauma in Botswana is at an increasing state which is perpetuated by a high number of road accidents. However, we train you to become trainers of trainers to decrease trauma instead of trauma traumatologists," quipped Professor Mashalla.
He said it was important for the nurses to work together and further encouraged them to conduct research on trauma to increase knowledge and influence policies to improve the situation.
UB School of Nursing lecturer, Dr Mariam Sebego, also urged the participants to use the skills they acquired to improve the quality of trauma services in their respective health care service centres.