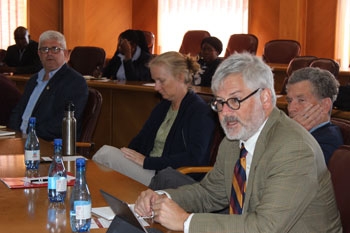 A delegation from the University of Wisconsin Madison in the United State of America paid University of Botswana Vice Chancellor, Professor David Norris, a courtesy call on August 28, 2018 to explore opportunities for collaboration and cooperation on research, education and training.
The team comprised head of the delegation, Mr Nathan Schulfer, Professor Tim Van Deelen, Dr.Tery Allendorf (Forest and Wildlife Ecology), Professor Rick Keller, Mr Tony Carol (International Division), Professor Don Waller (Botany Department) and Ms Justyn Huckleberry (doctoral student).
Speaking at the meeting, Mr Schulfer said as the University of Wisconsin Madison, they were eager to transfer their experiences to UB and harvest its full potential in a way that would benefit Batswana, the southern African region and ultimately the world.
"UW has long been a global university with enrolment of over 6 500 international students every year. We send 2000 students for programmes in other countries every year, with most of those students participating in semester or year-long programmes which deliver a truly immersive experience. This includes a programme through which we will send 15 students to Botswana next summer," said Mr Schulfer.
With regard to research promotion, Mr Schulfer pointed out that UW's research budgets was one of the top five at over US$ one billion per year, and largest contiguous campus in the US. He further stated that they hosted a programme, the King-Morgridge Scholarship, which brought six new exceptional students from developing countries to the campus each year. The students receive a fully funded four-year scholarship, including a budget for travel, computer expenses, and winter clothing.
"We house seven federally funded National Resource Centres which foster study of every region in the world in our Institute for Regional and International Studies, including the largest and oldest African Studies programme in the United States if not the world. And we house an International Projects Office, which fosters collaboration with governments, universities, and institutions around the world," said Mr Schulfer.
In response, Professor Norris said it was important for UB to foster collaborations on research with external stakeholders and international universities such as Wisconsin Madison to close research gaps and address societal needs and challenges. Professor Norris also noted that collaboration between the two institutions would enhance sharing of knowledge, skills and eventually uplift UB research initiatives to be impactful on the lives of Batswana and southern Africa as well.
He also advised UW to consider partnering with the Okavango Research Institute (ORI) which was dedicated to the study of wetland and water management in the Okavango River Basin, SADC region and beyond.
Professor Norris further decried the low level of research output at UB saying it was mainly due to the University's low economic development in the early years of its inception in that it was mainly focused on boosting human capital to work in government and private sector.
"UB has grown and fully matured, it is time to intensify research work through partnering with the best institutions such as Wisconsin Madison to tap into their knowledge and skill and ensure that whatever we do is inclined with the development of the country. And it is part of our mandate and vision to have University of Botswana as leading research into problems bedevilling our society and come up with innovative ways of solving them," said Professor Norris.
In addition, Professor Norris highlighted some challenges the university was grappling with in itse quest to be research intensive such as lack of research funds. Meanwhile, UB Deans and Heads of Departments also buttressed the Vice Chancellor's sentiments, enumerating a number of environmental science research projects, community projects and industry collaborations that their faculties and departments were engaged in.
At the end of the presentations, the UW delegation was taken on guided tour of the some facilities at the University, among them Sir Ketumile Masire University Hospital, Campus Indoor Sports Centre, Faculty of Engineering and Technology, Faculty of Health Sciences and UB Conference Centre. The delegation was later treated to a sumptuous lunch.