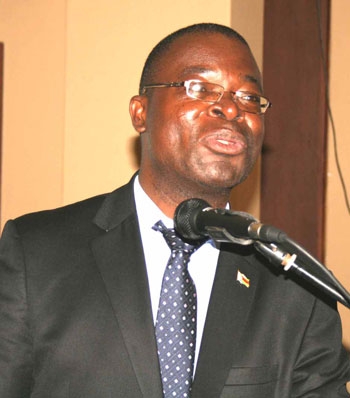 A university is a place where people think and do things and not where they look nice and use big words to appear educated, says Zimbabwe's Minister of Higher and Tertiary Education, Science and Technology Development, Professor Amon Murirwa.
Professor Murirwa was delivering a keynote address at a joint symposium which marked the end of a two-year programme aimed at enhancing the standard of engineering education in southern Africa in Victoria Falls on August 30, 2018.
The project known as the Enhancing Engineering Education Programme (EEEP) was sponsored by the British Royal Academy of Engineering (RAE) to the tune of 140 000 Pounds (P1 964 807) for two years with the desire to improve the standard of engineering education at the University of Botswana and regionally.
About 12 universities in the region were involved, among them, University of Botswana and its spoke institutions: Botswana University of Agriculture and Natural Resources (BUAN), Botswana International University of Science and Technology (BUIST), National University of Science and Technology (NUST-Namibia), University of eSwatini (formerly Swaziland) and National University of Lesotho (NUL). Zimbabwe's National University of Science and Technology who were the host of the symposium also participated as well as University of Manchester and Stracylde University in the UK.
Professor Murirwa observed that universities must create possibilities where that which was thought could be done and translated into tangible products and services. He said academics must cultivate an inspiring environment for nurturing learners through work-based learning.
"If you are a professor and you cannot produce a student who can think better than you, then you must resign," reckoned the minister who said professors were more of mentors than just experts. He added that the 21st Century demanded an advancement in technology for Africa hence it was crucial for universities to set up innovation hubs that would translate good ideas into prototypes that would then be transferred to industrial hubs for production of products. 
However, Professor Murirwa decried the low level of research in the southern African region. "We cannot afford to have universities where people teach and talk endlessly. We have to reconfigure our education system so that there is delivery because everything that we can think of, can be done," said Professor Moruriwa.
The problem, he observed, was that people's minds were more often preoccupied with finding problems than coming up with solutions. Besides, lack of confidence compounded the situation, he said. Nonetheless, he expressed hope that knowledge gained and collaborations forged through EEEP would help alleviate the situation.
Dr Keith Carter, RAE representative, urged universities to hire what he called suitably qualified and experienced staff. Otherwise, he added, they should put in place career development plans to equip each individual staff member with relevant academic qualifications. To augment such, Dr Carter said universities must also get involved in government infrastructural projects to bridge the gap between them and industry.
He noted that universities must make it a practice and culture to develop new courses through research. Dr Keith also said student projects must have a practical element in that they could be, among others, used as a resource to upgrade of lab equipment where possible.
Meanwhile, the Botswana delegation that attended the symposium was made up of Acting Deputy Vice Chancellor for Academic Affairs, Professor David Sebudubudu, as leader of the delegation as well as Dean of the Faculty of Engineering and Technology, Professor Benjamin Bolaane and representatives from University of Botswana spoke institutions.