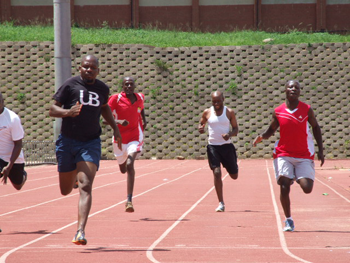 An associate professor from the Michigan State University Department Kinesiology in the US, Professor Leapetswe Malete, has encouraged universities to infuse entrepreneurial skills in sport curricula.
Professor Malete was speaking at a panel discussion the University of Botswana organised in collaboration with Tsoseletso Magang under the theme: "Entrepreneurship and Life Skills Through Sport: A Tool To Develop Youth" at UB Conference Centre on July 25, 2018.
He said athletes also need to be always actively engaged during formulation and implementation of programmes and policies for such to have impact. In addition, he urged universities to promote youth participation in sport and to contribute in the development of their communities.
"For African countries to transform, they should work together and youth must be empowered to attain life skills and entrepreneurial skills through sport," said Professor Malete.
He said sport was one of the most powerful tools for unlocking potential and providing a foundation for youth to gain entrepreneurial and life skills to connect with the real world of work.
The common thread during the panel discussion was that infusing values such as leadership skills, communication skills, hard-work, and teaching youth in sport to take responsibility into sport contributed meaningfully to youth development. Such will teach them how to overcome adversity, achieve goals, commitment, team work, confidence and self- discipline.
UB senior lecturer in Department of Physical Education, Health and Recreation, Dr Tshephang Tshube, said together with some academics they were developing a sport curriculum that would include entrepreneurship skills in the teaching and learning process.
"Learning values such as teamwork, effective communication, leadership, respect, fair play, self-esteem, resilience and confidence through sport will not only assist youth to become responsible and active citizens, but also directly impact and improve the performance of those participants who take up sport more seriously in their life," said Dr Tshube.
The event also attracted panellists from the University of Dar es Salaam in Tanzania and the University of Ghana.