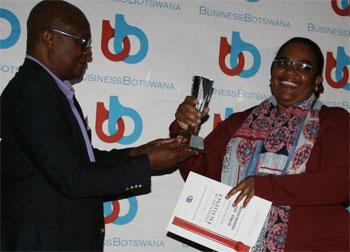 The University of Botswana scooped First Prize in the Education Sector Category at the Business Botswana Northern Trade Fair held in Francistown on May 23-26, 2018.
The event was held under the theme Is Tourism Botswana's Hope amidst dwindling Mining Fortunes?
UB brought along members from the faculties of Science; Engineering and Technology, and Humanities; Centre for Continuing Education (CCE), Okavango Research Institute (ORI), and the Department of Academic Services.
On display were research projects by both students and staff. Two final year students from the Faculty of Engineering and Technology were selected to exhibit their projects at the trade fair.
The products on display, such as a data logger and musical instruments, among others, correlated with the theme, and drew a lot of participants to the University stall.
Senior Lecturer in the Department of Environmental Science, Dr Moren Stone's presentation on issues of the environment tallied with the theme as he explored numerous ways in which the environment could be turned into a tourism resource.
"Botswana has different environment landscapes which represent different aspects of tourism development. The University conducts research that helps in tackling issues which are tourism related," said Dr Stone.
The department is currently running a project in Samojima in Ngamiland where fishermen used to fish and consume fish at a subsistence level.  In their quest to create backward economic linkages, the department has endeavored to link the fishermen with the business world in the Okavango Delta so that they could be able to sell their produce to tourists, as well as make tourism a part of their livelihoods.  
During judging of stalls, adjudicators looked at a number of issues, among them staffing, branding, design of the booth, quality and originality of material, uniqueness of products, promotion of services, and overall appeal.