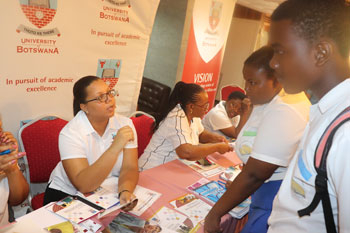 The University of Botswana took part in the Agency for National Human Resource Development (ANHRD) Public Awareness Session in Seychelles recently as part of its efforts to position itself as the university of choice in southern Africa.
The awareness session brought together 15 institutions of higher learning from across the world including Malaysia, Mauritius and Botswana to showcase their products and services. Hundreds of potential students attended the session as Seychelles strives to remain competitive by investing and availing opportunities to its citizens.
"This awareness session will serve as a platform for interaction among various stakeholders, bringing tertiary or higher education closer to potential students and the general public, said ANHRD Manager, Mr Terrence Crea.
Mr Crea said the event was a critical step towards addressing challenges faced by the government and private sector in Seychelles precipitated by lack of knowledge pertain to industry needs and wrong placement of youth in the labour market.
"The government and the private sector face challenges such as not knowing what occupations are required in certain sectors…youth being wrongly placed in the labour market or insufficient readiness skills being developed among graduates," observed Mr Crea.
Consequently, ANHRD organised the event to provide students and members of the public with first-hand information on different training opportunities on offer and different fields of study at institutions approved by ANHRD among them the University of Botswana.
What was more exciting was Mr Crea's acknowledgement of a growing number of Seychellois who have over the past years pursued their tertiary education in other countries including Botswana.
Mr Crea's remarks could not have come at the right in that last year UB's valedictorian, Jocelyne Mary-Jane Dogley, who is now a teacher, was from Seychelles. Multitudes of high school students, some of which were her students, were excited to see her at the UB stall as testimony that Mmadikolo was a great institution. She also helped to spread the gospel to other Seychellois that UB should be their university of choice.
Meanwhile, the Director of Public Affairs, Mrs Mhitshane Reetsang together with the Acting Director for International Education and Partnerships, Professor Musa Dube, had the opportunity to pay Seychelles' Minister of Education and Human Resource Development, Ms Jeanne Simeon, a courtesy call.
Mrs Reetsang briefed the minister about the programmes offered at UB, saying before the awareness session, most Seychellois thought the University comprised only two faculties, that of Education and Humanities.
Therefore, she said given UB was a comprehensive university, it had a lot to offer Seychelles in training its citizens for different sectors of the economy. Seychelles only has one university which was established some seven years ago and gives UB which is 36 years old, an edge.
Professor Dube said the excursion to Seychelles was not only to recruit students but to explore other areas through which UB could have partnerships and collaborations between universities, staff members, researchers, students and staff exchanges as well as dual programmes and supervisions.
Professor Dube said during the awareness session she managed to meet officials from different institutions in Seychelles to initiate processes for collaborations and partnerships.