The University of Botswana took yet another step in participating in the global world of scholarship by hosting the 2018 International Data Week. UB is hosting the event on behalf of a consortia of key stakeholder institutions that have come together to drive Open Data Open Science movement.
The consortia includes the Committee on Data (CODATA) of the International Science Council (ISC) and the ISC World Data System (ISC-WDS), the Research Data Alliance and the African Open Science Platform as well as the Ministry of Tertiary Education, Research, Science and Technology. The theme of the event is Digital Frontiers of Global Science.
It brought together more than 820 participants representing 66 countries. Botswana was represented by over 250 participants. Overall, the conference brought together professionals, researchers, policy makers, industry leaders, youth, non-governmental organisations, and the private sector to share knowledge and best practices in innovation and data management.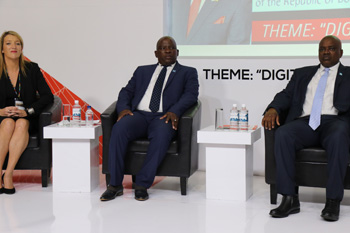 Speaking at the official opening of the conference, the President, Dr Mokgweetsi Masisi, said such partnerships assisted in unlocking unlimited economic and societal opportunities arising from global collaboration between policy makers, scientific community, industry and communities.
President Masisi underscored the importance of a knowledge-based economy and said like many other people, he foresaw Open Data and Open Science platforms as potential agents for fostering regional and continental integration through collaboration.
"There is therefore a need for global partnerships as well as funding if all of us are to benefit from opportunities brought about by open science and open data initiatives," said the President.
Dr Masisi said he was confident that with renowned experts and professionals in the conference, its outcomes would go a long way in assisting respective governments to position themselves to be part of the global knowledge-based economy.
"I would like to emphasise the fact that the outcomes of this conference will have far reaching implications for our national development agendas and our people who are eager to be part of the digital world," said Dr Masisi.
After all, he said it was a truism that in a knowledge or innovation driven society, data was the new currency besides being a renewable commodity.
The President said as such, there was need to enhance its multiple benefits and value chains. "What matters most should not be how sophisticated we are in managing data but how it assists us in improving the lives of the people we serve," added Dr Masisi.