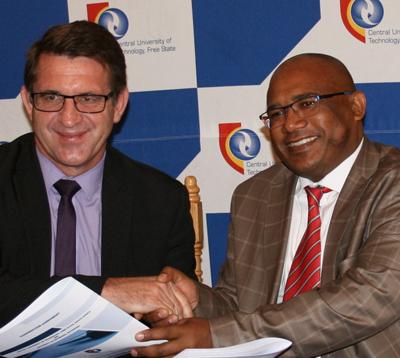 The University of Botswana entered into a three-year agreement on April 16, 2018 with the Central University of Technology (CUT) in Bloemfontein, South Africa through which the two institutions of higher learning committed themselves to jointly leveraging their capabilities in promoting scholarly activities and international understanding in a number of areas.
This was part of a two-day visit to the Central University of Technology in Bloemfontein, to explore areas in which the universities could jointly leverage their capabilities. UB Vice Chancellor, Professor David Norris led a delegation comprising Acting Deputy Vice Chancellor for Academic Affairs, Professor David Sebudubudu, Dean of the Faculty of Medicine, Dr. Oathokwa Nkomazana, Dean of the Faculty of Science, Professor Julius Atlhopheng, Dean of the Faculty of Engineering and Technology, Professor, Benjamin Bolaane, Head of the Department of Industrial Design & Technology, Professor Richie Moalosi, and Executive Assistant to Deputy Vice Chancellor for Academic Affairs, Mrs. Matshediso Zungu.
The agreement establishes a framework for the negotiation of the institution's envisaged cooperation in the development of collaborative research projects and organisation of joint academic and scientific activities such as courses, conferences, seminars, symposia and lectures. The framework also establishes exchange of research and teaching personnel as well as students. Further, they agreed to exchange publications and other materials of common interest.
Professor Norris, signed on behalf of UB while his counterpart, Professor Henk de Hager, signed on behalf of CUT at a ceremony held at the latter's premises and attended by some members of staff from both institutions.
The signing of the agreement was in recognition of the fact that in the unfolding fourth industrial revolution, universities cannot on their own cope with the multitude of technologies that underpin it. As such, CUT initiated the agreement as part of its effort to establish partnerships with other institutions, particularly on the African continent, to complement knowledge and expertise in an effort to make meaningful contribution to the fourth industrial revolution that is expected to spur the development of the region.
UB also found it worthwhile to partake in the initiative as it also strives to become a research intensive institution with an international outlook underpinned by partnerships and collaborative programmes in different areas.
CUT found a willing partner in UB, hence during the visit, Professor Norris and his delegation attended a number of meetings and were shown around different areas of the university, among them the Product Development Technology Station, the Centre for Rapid Prototyping and Manufacturing, Research Unit for Evolvable and Manumation Systems and Technology Transfer Unit.
The Vice Chancellor also met deans from faculties of Management Sciences, Humanities, Health and Environmental Science, Engineering and Information Technology. CUT prides itself as the foremost higher education institution in the heartland of South Africa dedicated to quality education and training in science, engineering and technology. It offers a wide range of qualifications in its four faculties, Health and Environmental Sciences, Engineering and Information Technology, Management Sciences, and Humanities.