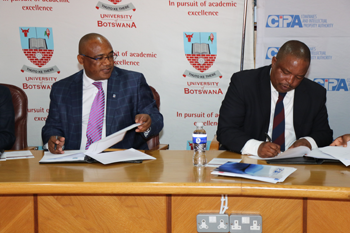 The University of Botswana and the Companies and Intellectual Property Authority (CIPA) have signed a Memorandum of Understanding (MoU) to formalize their long standing working relationship.
The MoU was signed on March 20, 2019. Vice Chancellor, Professor David Norris, signed for the University of Botswana while Mr Conductor Paul Masena signed on behalf of CIPA.
Outlining CIPA's role, Mr. Masena stated that part of it was to protect the intellectual property rights and the two institutions have worked together on intellectual property issues (IP) but on an ad hoc basis.
In 2007 CIPA and UB cooperated for a capacity building project to convert some printed materials into formats accessible to the visually impaired. The two institutions further collaborated to host the African Regional Intellectual Property Organisation Roving Seminar for Institutions of Higher Education in 2018.
UB was engaged when the World Intellectual Property Organisation sought to pilot institutional IP policies for educational and research institutions and produced a model policy.
Mr. Masena indicated that from these few engagements with UB, it was now time to formalise the working relations. Consequently, the signing of the MoU means UB will explore further opportunities and possibilities to offer training on intellectual property rights.
Botswana has been looking for opportunities to diversify her economy to reduce overreliance on natural resources, diamonds in particular hence the creative industry presents opportunities for socio-economic and cultural development.