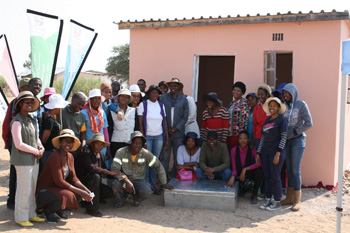 The University of Botswana Careers and Counselling Unit in collaboration with UB Christian Union has donated a refurbished house to an underprivileged 34-year old man of Lorolwane village, about 120km south of Kanye.
The beneficiary was Mr Oarabile Gaanakgang, a congenitally epileptic and psychiatric patient, whose condition degenerated when he was around 25 years old. Mr Gaanakgang who has lost all his parents stays alone in the yard which belonged to his father and just out of compassion receives care from some of his neighbours.
Welcoming guests at the donation ceremony, Kgosi Matlhoakhosi Matlho of Lerolwane village, expressed gratitude for the good gesture by UB. He said given Lorolwane was 120km away from Kanye where they get services, such rendered everything expensive for them.
Kgosi Matlho said the project was a good donation given that not everyone could afford to build such a structure for themselves. He thanked the UB Christian Union for choosing to donate to the Lorolwane community.
Giving an overview of the project, Ms Margaret Keolebogile Semphadile from the UB Careers and Counselling Unit, said UB volunteered their services Lorolwane in collaboration with the UB Christian Union. She added that the Union also used the long school vacation to assist with tutoring students in Lorolwane.
The UB Job Placement Unit initiated the project under its Graduate Employability initiative. Ms Semphadile said the project was identified during the Union's two week outreach programme during students offered tutoring to Lorolwane Primary School upper level students.
During their stay in the village they identified the house and the need to assist the beneficiary. "The house was in a very bad state with a lot of cracks all over, no ventilation, no door and poor roofing which was leaking when it rained. Looking at the state of the patient and the condition of the house, we felt there was a need for a quick intervention to help where possible, considering the fact that also we were approaching the rainy season with a forecast of prolonged heavy rains," said Semphadile. She said the Union's good work would not go unnoticed.
Ms Nthutang said the Union's good work had touched hearts and the wish was for the University to continue doing good for others less fortunate. She informed the gathering that the recipient, who had been admitted to hospital, was recovering and would find his house complete and ready for occupation.
Ms Nthutang thanked UB management and community for the support they continued to render the Department. She revealed that the students financed the project from their pockets.
Receiving the house on behalf of Mr Gaanakgang, Ms Gadifele Tsiripane, thanked UB and informed the gathering that Mr Gaanakgang was recovering well.