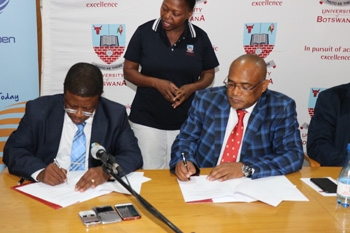 The University of Botswana and Botswana Open University signed a Memorandum of Understanding to further strengthen their relations and collaborations in different areas of research and training to increase Batswana's participation in higher education.
Vice Chancellor, Professor David Norris, signed on behalf of UB while Botswana Open University Chancellor and UB alumni, Dr Daniel Tau, signed for his institution during ceremony held at the UB Council Chamber on November 2, 2018. Speaking at the ceremony, Professor Norris said the two institution contributed equally in terms of Botswana's human capital development and increasing access and participation in the higher education land scape.
"These are two compatible institution in the sense that what they have been doing is almost similar. Therefore, that compatibility is very important as it will strengthen their relationship and collaboration to further increase participation higher education," said Professor Norris.
He said both institutions offer on sight teaching and learning as well as distance learning which contributed immensely to the development of the nation and to assist it transform in to a knowledge-based economy.
As for Dr Tau he appreciated UB's willingness to enter into an agreement through which the two institutions would collaborate given their vast experience and maturity. Dr said BOU had always wanted to work with UB but they were stalled by lack of a framework to guide them.
He added that the signing of the MoU would allow their academia to work together freely. Dr Tau also assured UB management that he would send some of his staff members such as librarians and faculty administrators on a benchmarking exercise at UB.
"About 99 per cent of our administrators are UB alumni and benefited from the work of UB and it will remain Alma mater to us," said Dr Tau.