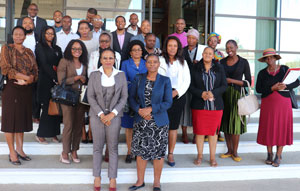 In 2017 United Nations (UN) Resident Coordinator who is also the United Nations Development Programme (UNDP) resident representative in Botswana, Mrs Jacinta Barrins, visited the University of Botswana.
As was her brief visit, her message was short too. Be the champion of Sustainable Development Goals (SDGs), she said to the delight of the University of Botswana management then. It would not be long before a team of seven academics heeded the call and walked the talk.
The team comprising Professor Happy Siphambe as team leader, Dr Malebogo Bakwena (Deputy Team Leader), Dr Lexi Setlhare, Ms Mavis Kolobe, Ms Itumeleng Oageng, Dr Keamogetse Setlhare and Ms Tshegofatso Motswagae from Ba Isago University embarked on a study on SDGs in Botswana with Gabane village as a case study.
According to the researchers, one of the goals of the study whose findings were released recently at the Gabane Kgotla and a stakeholder workshop at UB, was to collect data that would enable them to produce an SDG Report for the village.
The study uses Community-Based Monitoring System (CBMS) data which takes into account all households in the area of interest. This makes it possible to better identify the needs of people in Gabane and to propose relevant policies for local development thereby favouring the achievement of SDGs.
The researchers believe the study will help in addressing challenges the absence of high quality disaggregated data that can enable the country to design targeted programmes to address poverty, among others.
Presenting the findings of the study at a Partnership for Economic Policy (PEP) Dissemination workshop on localising SDGs at UB Conference Centre recently, Ms Kolobe said 430 households in Gabane were living below the national poverty datum line, with females constituting majority of the poor at 61.3 per cent. She added that 4.28 per cent of under five children were severely underweight.
The overall population recorded in Gabane is 6842. The village is divided into four council wards with each ward recording the following population: Gabane South East 2 165; Gabane South West 2 056; Gabane North West 1 576 and Gabane North East recording a population of 1 045.
Speaking on the goal to end hunger, achieve food security and improved nutrition and promote sustainable agriculture, Ms Kolobe said the results showed that 7.9 per cent of the Gabane residents suffered extreme hunger, which means they had no food at all.
She revealed that 39.52 per cent of Gabane residents experienced moderate hunger. With such results, she added, the goal to zero hunger by 2030 might be a challenge unless appropriate policies were put in place.
Other challenges that militate against healthy living and the well-being for all ages, under SDG 3 in Botswana were maternal mortality, HIV and TB related deaths, Non-Communicable Diseases and substance abuse.
Ms Kolobe said the main causes of deaths in Gabane were heart diseases, accidents, diabetes and complications during pregnancy and child birth. She also stated 50 per cent of the under-five children were not attending pre-school.
Presenting recommendations from the study, Ms Kolobe indicated that there was a need for review of labour laws on the minimum wage which was currently not linked to the cost of living hence leading to indecent jobs in terms of payments.
Another concern by the researchers, was low participation in government programmes by Gabane residents.
"People who were supposed to be in social safety nets were not enrolled, especially those living with disabilities," said Ms Kolobe. Consequently, this calls for effective monitoring and evaluation of the programmes on a continuous basis to ensure that they met their intended objectives.
Ms Kolobe said to offset health challenges, there was need to intensify food supplementation for children to make sure that it reached intended beneficiaries. Also, public education must be intensified to sensitize people on the importance of healthy living to reduce chances of obesity. 
During comments at the Gabane Kgotla and workshop, the residents comprising the village's traditional leadership, acknowledged the findings of the study. They said poverty in the village was partly aggravated by lack of unemployment opportunities, alcohol abuse, lack of financially literacy and information on how to access government programmes, among others.