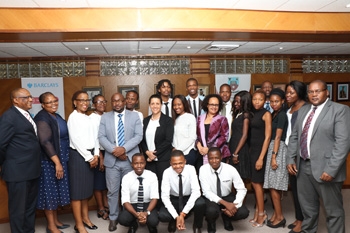 Some 10 students are pursuing their Masters Degrees in various disciplines at the University of Botswana this academic year, thanks to the Barclays Bank F. G. Mogae Scholarship Fund.
The students each received P70 000 per academic year to pursuing graduate studies in mechanical engineering; environmental science; wildlife management; economics; archives and records management, and human resource management.
The Barclays Bank F. G. Mogae Scholarship Fund was established in 2008 to empower Batswana citizens by furthering their education and giving them an opportunity to grow their skillset.
To date the, the Scholarship Fund has supported 38 beneficiaries who have not only gained ground individually from this initiative but whose academic development has trickled down to their respective workplaces and communities.
Speaking at the launch of the sponsorship at the University of Botswana on November 26, 2018, a director at Barclays Bank Botswana, Ms Lesley Bradly, highlighted that a majority of scholarship recipients studied at UB.
Ms Bradly said following Barclays Africa Group Limited's announcement of an increase of R210 million to the charitable CEO Fund last year, 3000 university students across all 10 Barclays Africa markets stood a chance to benefit from the prestigious scholarship fund for the current academic year.
In June this year, Barclays Bank Botswana also announced an investment of P3 million into the Barclays Bank F. G. Mogae Scholarship Fund and the intention was to enroll 40 new scholarship recipients this year.
"The ten young recipients that we are here to honour today form part of the 40 and we are proud to welcome them to the Barclays family," said Ms Bradly. She thanked the UB committee for presenting the most deserving candidates for the scholarship, noting that the University set the standard when it submitted a detailed and well-articulated recommendation report to the bank for final selection.
Meanwhile, UB Scholarship Committee Chairperson, Dr Gaelebale Tsheko, said they received a total of 46 applicants and only shortlisted 16 out of which 10 were recommended for final approval. Dr Tsheko said they selected top achievers and highly ambitious individuals who were involved in community development with exceptional attributes in both their academic and personal lives.
Speaking on behalf of the recipients, Mr Poloko Kefitlhile, promised to utilise the scholarship to the fullest to benefit Botswana. Mr Kefitlhile said they were eager to contribute towards transforming Botswana into a knowledge-based economy through the researches they would embark on.
He encourage other corporate entities to emulate Barclays Bank because Botswana's drive towards a knowledge-based economy needed all hands on deck.