The University of Botswana School of Nursing, which has been the World Health Organisation Collaborating Centre (WHOCC) for Nursing and Midwifery Development for the English Speaking African Countries since 1990, has been re-designated again, but this time with expanded terms of reference for another four years. The re-designation is done every four years with specific terms of reference.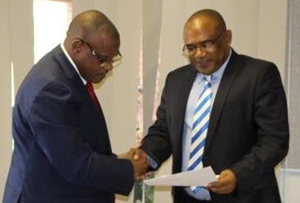 The announcement was made by WHO Country Representative, Dr Martins Ovberedjo who was accompanied by other WHO officials, namely Mr Moagi Gaborone, Mrs Bakanuki Nfila and Mr Nhamo Mapuranga.
This year marks 28 years of the partnership between UB and WHO, and the current re-designation covers the period April 1, 2018 to March 31, 2022. The centre's 3 new terms of reference are to strengthen the contribution of nursing and midwifery in reducing the burden of Non Communicable Diseases (NCDs) and promote health and wellness throughout the lifespan.
The Centre also promotes strategy on women, children and adolescents (2016-2030), strengthen the capacity of nurses and midwives to provide quality services to reduce morbidity and mortality for mothers and new-borns. In addition, WHOCC has been tasked to promote and conduct collaborative research on NCDs and maternal, new-borns, child and adolescents.
Accepting the re-designation, UB Vice Chancellor, Professor David Norris, expressed appreciation for the re-designation, describing the achievement as special recognition of the valuable work by the Centre and the University. Professor Norris said UB Management would support WHOCC and also work closely with the WHO country office. 
In addition, the Vice Chancellor underscored the contribution of WHOCC that through knowledge development and evidence generation it would impact on people's lives and national development. Professor Norris stated that it was particularly interesting as the impact of the centre was expected to cover all of English speaking Africa.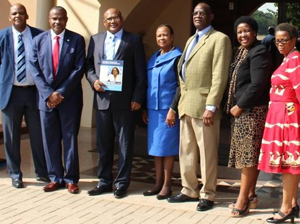 "The centre deserved a special award from the University leadership as its achievement has contributed to the challenge and expectation on universities to have a direct impact on the populations served," observed.  Professor Norris thanked WHO for the expression of trust in the University through the centre, and the centre staff for making the University proud as a regional leader. 
In response, Dr Ovberedjo acknowledged UB's valuable contribution, including the resources the University committed to enhance the tripartite partnership between itself, Ministry of Health and Wellness and WHO on health development in Botswana and beyond. He presented the Vice Chancellor with copies of the AFRO Transformation Agenda (2015 – 2020) and the Country Cooperation Strategy (2014-2022).
Dr Ovberedjo observed that the re-designation of the centre had a key role in the health development of the African region in that the implementation of the terms of reference would have a direct impact on the lives of communities.
Dean of the Faculty of Health Sciences, Professors Yohana Mashalla; Head of the School of Nursing and WHOCC Director, Professor Keitshokile Mogobe; and WHOCC Co-ordinator, Professor Naomi Seboni also attended the meeting.