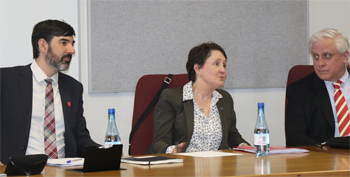 A Rutgers Global Institute of Health delegation from The State of New Jersey in US, paid visited the University of Botswana on March 26, 2019 to explore areas of collaboration.
The collaboration aims to focus on assisting Botswana to transform its economy into a knowledge-based economy.
Chief of Staff at Rutgers University, Dr Brian Ballentine, said since arriving in Botswana they had been to different institution to gather information to guide them on how Botswana intends to drive towards a knowledge-based economy.
Dr Ballentine said they were looking forward to working with UB on areas such as research, entrepreneurship, health, leadership and capacity training across public sectors to build Botswana into a knowledge-based society.
Other important areas he touched on include knowledge exchange for mutual benefit, especially at undergraduate training level and cultural exchanges
Speaking on behalf of the Vice Chancellor, Acting deputy Vice Chancellor Student Affairs, Professor Happy Siphambe, said UB strategic goal was to become a research intensive institution.
Therefore, Professor Siphambe said UB was doing such in pursuit of excellence hence engaging with industry and other stakeholders to achieve a high level of development through quality programmes.
Consequently, the Information Technology Department, he said, was instrumental in driving UB's vision through the latest technology and strategies.
Dean of the Faculty of Engineering and Technology, Professor Benjamin Bolaana, said UB recently hosted the International Data Week to promote access to data by leveraging on ICTs.
Professor Bolaane said access to data was limited in Botswana due to restrictive laws especially to researchers hence such was a hindrance to the country developing into a knowledge-based economy.
Faculty of Medicine Acting Dean, Professor Doreen Ramogola-Masire, also shared the same sentiments with Professor Bolaane, saying laws should be amended to make access to data relatively easy.
Meanwhile, the Rutgers delegation also comprised Rutgers Global Health Institute Director, Professor Richard Marlink, Senior Vice President and Chief Information officer, Michele Norin.