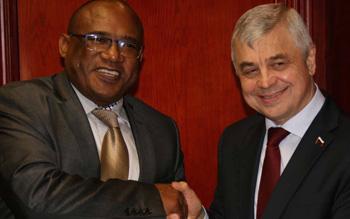 The Embassy of the Russian Federation in Botswana is working on forging strategic partnerships between the University of Botswana and Russian universities. This came to light during the Russian Ambassador, Mr Victor Sibilev's courtesy call on UB Vice Chancellor, Professor David Norris on April 25, 2018.
The Russian Federation and Botswana signed a Memorandum of Understanding on Cooperation in the Field of Education in 2016, and it is through this instrument that UB will benefit from students and staff exchanges as well as training, scientific and technical developments.
Mr Sibilev said the MoU provided for direct linkages between the two countries' institutions of higher learning, including the University of Botswana. The Ambassador cited in particular the People's Friendship University which he would facilitate partnerships with UB. He proposed to have Professor Norris undertaking a working visit to Russia to sign a MoU with the university at the earliest convenient time.
The Ambassador's desire is to also emulate the Chinese who have set up a centre that teaches Chinese language and culture at UB, namely the Confucius Institute. Mr Sibilev expressed their desire to open a similar centre through the Russian Foundation, and employ a lecturer to teach the Russian language at UB.
In response, Professor Norris expressed delight at the Russian Ambassador's call on him, saying it was significant in that it was the beginning of a fruitful partnership that would see UB forging strategic partnerships with Russian universities to give impetus to its research drive. Professor Norris observed that Russia was an important partner to Botswana in higher education given the quality of its institutions and importance as a global player.
He said as a national institution, UB was also concerned by Botswana's high graduate unemployment hence the University stood to benefit from Russia on how to turn research findings into products and services that could help stem the tide against unemployment.
"We are aware of the quality of Russian universities in producing tangible products and services, and we are glad for the opportunity through your facilitation to collaborate with these institutions to help in that respect too," observed Professor Norris.
The Vice Chancellor said he was excited about Russian scholarships because UB wanted to have all its teaching staff holding at least a PhD qualification. In addition, he said UB could have linkages with some Russian universities in the area of telemedicine which could attract foreign students to Botswana. Professor Norris also welcomed the idea of a joint grant scheme with Russia.