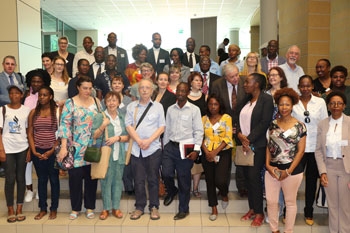 World renowned scholars converged on University of Botswana on February 22, 2019 to interrogate race and identity issues from a global perspective so as to share knowledge and forge collaborations on various projects for the betterment of education and society.
The international conference themed Identity and Race in Southern Africa and Beyond, was organised by the University of Botswana through the Department of French in collaboration with two French universities namely University of Paris Diderot and University of Paris Nanterre. Other collaborating partners were the UB Department of English, Department of African Languages and Literature and Department of History.
Conference facilitator and English Department Senior Lecturer, Dr Maude Dikobe, said the research output from the conference aimed at informing policy locally and beyond. Dr Dikobe added that it was also to help individuals and nations understand their identity in a constantly changing modern world as well as to forge partnerships that formed part of the UB academic vision.
Speaking at the official opening, Professor Norris highlighted that the conference theme was befitting as it came at a time when not only Africa but the world at large was going through social, economic and political changes emanating in part from issues of race, identity and globalization.  He further stated that the conference therefore provided an opportunity for the world's renowned scholars to share their thoughts and insights in the fields of Anthropology, Sociology, History, Languages, Linguistics, Philosophy, Literature and Theatre for the betterment of education and society at large.
"We live in an increasingly globalised world, an interconnected space with intensified human interactions, and a growing flow of goods, capital and digital data, with massive migrations inside Africa and between continents,'' said Professor Norris.
He also added that it was within such interconnected space that issues of race and identities could be interrogated with a variety of contexts within the southern African region against a backdrop of emerging global identities. 
Dean of the Faculty of Humanities, Professor Anderson Chebanne, said the question of race and identity was topical and reflected back on issues that defined the modern world and how it engaged it's determinates. However, as the Faculty of Humanities, he said their participation and collaboration in the conference was from a perspective that development was not only science but incorporated a human aspect as well.
French Ambassador Pierre Voillery commended the participants and said academic exchange as well as relations between researchers and scientific were key to the progress of knowledge. He also commended the high turn out by French researchers who turned up for the two day exchange of knowledge. He noted that it was evident that there was significant interest in the studies and knowledge on Botswana and the region.