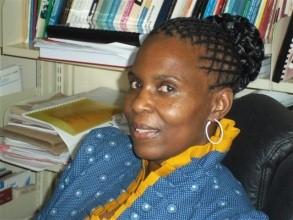 A University of Botswana Research and Evaluation Specialist, Professor Bagele Chilisa, has been appointed to the United Nations Development Programme (UNDP) Evaluation Advisory Panel (EAP) under the Independent Evaluation Office.
"Let me cordially welcome you to the UNDP Independent Evaluation Office's (IEO) Evaluation Advisory Panel," reads a message from IEO Director, Dr Indran Naidoo, informing Professor Chilisa about her appointment.
Dr Naidoo says he is excited that he will be working with Professor Chilisa, especially given that the office will gain immensely from her inputs and insights into the evaluation and research methodology in the context of the African region and human development.
Professor Chilisa is a full Professor of the Post Graduate Research and Evaluation Programme at the University of Botswana. She has taught a number of courses to graduate and undergraduate students. These include Research Methods; Educational Evaluation; Constructing Questionnaires and Conducting Surveys; Project Design and Evaluation; Policy Planning and Evaluation. 
She holds a Masters of Arts degree in Research Methodology. The degree covers Research Design, Statistics and Measurement from the University of Pittsburgh. She earned her PhD in Policy, Planning and Evaluation, also from the University of Pittsburgh.
Professor Chilisa is a founding member of the Botswana, Lesotho, Swaziland and Namibia Research Association and has served as president of the Botswana Educational Research Association from 2000 to 2002. She has served as editor of the Botswana Educational Research Journal, board member of the University of Botswana Centre for Scientific Research and Indigenous Knowledge and Innovations and University of Botswana Research Ethics Committee.
She has served as an evaluator for notable projects such as the Netherlands WOTRO Science for Global Development's Joint MFS II Evaluations of Development Interventions (2012-2015); African Development Bank's evaluation of its assistance to Botswana 2004-2013; and an evaluation of the Indigenous Knowledge Systems Programme for the South African National Research Foundation.
As author of the African Evaluation Association (AfrEA) concept paper on a Made in Africa Evaluation Approach, Professor Chilisa is an African thought leader driving the concept of African-rooted evaluation. She has conducted evaluation research for Department for International Development (UK), Forum for African Women Educationalists, United Nations Children's Fund, World Health Organisation, Economic Commission for Africa, World Bank, and International Labour Organisation, UNESCO and UNDP.
She is a renowned and widely cited scholar. Among her published works is a textbook which has received rave reviews across the world titled Indigenous Research Methodologies published in 2011. The book has been described as "a welcome contribution, offering an accessible and practical methodology…for students and researchers interested in applying postcolonial critique to research methodology".
Recent publications include: Mixed Methods in Indigenous Research: Building Relationships for Sustainable Intervention Outcomes (2014); Decolonising Trans-disciplinary Research: An African Perspective for enhancing knowledge integration in Sustainability Science (2017); Community Engagement with a post-colonial, African based relational paradigm (2017); and Decolonizing and Indigenising Evaluation Practice in Africa: Toward African Relational Evaluation Approaches (2016). 
As such, "your expertise in designing and conducting research within the historical and cultural milieu of developing and indigenous peoples is extremely relevant to our own work, and will bring much needed perspective to our efforts in evaluating UNDP's efforts on the ground," says Dr Naidoo.
A group of aspirant evaluators in the development space, working as public servants in the Community Development Workers Programme in the Gauteng Province, South Africa also expressed how fascinated they were with Professor Chilisa's work.
"We are quite fascinated by most academic articles you have written with your colleagues in the subject matter. Your initiatives must be celebrated by all Africans who seek sustainable solutions to the problems facing our continent," said the group. 
Consequently, the group has generated extensive discussion on the Africanisation of development evaluation while further proposing to use as a base some of Professor Chilisa's works.
Meanwhile, the IEO is a functionally independent unit within UNDP that supports the oversight and accountability functions of the executive board and management of UNDP, United Nations Capital Development Fund and United Nations Volunteers.
The core function of the IEO is to conduct independent thematic and programmatic evaluations. It also prepares the Annual Report on Evaluation, sets standards and guidelines on evaluation, monitors compliance on evaluation and shares lessons for improved programming.
The IEO's work includes, among others, developing evaluation standards, procedures, criteria and methodological guidance for UNDP evaluations, and contributing to innovation in evaluation methodology and dissemination of good practices.
In addition, it provides UNDP and its development partners with timely knowledge and lessons drawn from evaluations that can feed into development programming at global, regional and country levels.