The President, Dr Mokgweetsi Masisi, has re-assured Batswana that he would do all in his power to re-energies the University of Botswana to realise its vision and mission of becoming a leading centre of academic excellence.
President Masisi made the assurance after the University of Botswana conferred him a Doctor of Laws Honorary Doctorate in a ceremony that preceded the University's  36th Graduation Ceremony that also saw the inauguration of former Bank of Botswana Governor, Ms Linah Mohohlo as its fifth and first woman Chancellor. Also on the same day, Professor David Norris was inaugurated as the sixth Vice Chancellor while 2 273 students graduated with different qualifications.
"I pledge to use all means available to me to develop national and international links that will help advance the vision and mission of the University of Botswana to be a leading centre of academic excellence in Africa and world," said President Masisi.
He said this was in recognition of the fact and his strongest belief that the University of Botswana held the key to Botswana's economic development and diversification process. He added that his acceptance of the honorary doctorate was a demonstration of his trust in the leadership of the University, the incredible academic rigor, the quality of staff and students, and the enriching experiences UB offered.
"I can attest that the University of Botswana has been the training ground for thousands of captains of industry and the civil service who actively participate in the economic development of our country," said Dr Masisi.
The former Chancellor also reminisced about his inauguration as chancellor during which he promised to help the University to transform. "I still stand on that promise as an alumnus of the University of Botswana and promise to immerse myself into helping the University become relevant to the demands of a knowledge-based society," said Dr Masisi.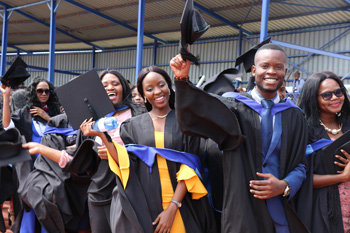 Meanwhile, the Chancellor, Ms Mohohlo, also expressed delight for being the first woman chancellor. "The appointment of women chancellors in universities is gaining momentum and needs to be sustained," added Ms Mohohlo.
She noted that her appointment would not only shine a spotlight on the issue of faculty appointments but would also encourage true reflection on the matter (lackluster appointment of women) because she said more needed to be done for the challenge to be addressed sustainably.
She regretted that women remained underrepresented in decision making positions both in the public and private sectors notwithstanding evidence women not only had ability to deliver at the highest levels but could also make decisions for the progress of the country.