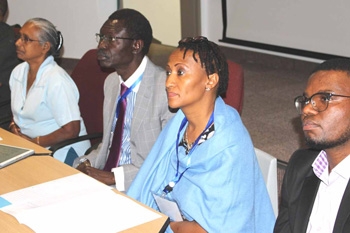 Despite the rapidly growing ageing population of the elderly in Botswana, like the rest of the world they face uncertain future because their needs and interest are largely invisible on Botswana policy agenda, says University of Botswana Head of the Department of Law.
Dr Bonolo Dinokopila was speaking at the Global Innovation Workshop on Ageing, Frailty and Resilience organised by the University of Botswana School of Madison and the University of Birmingham (UK) at the Sir Ketumile Masire Teaching Hospital Auditorium recently.
The objective of the workshop was to explore ageing, frailty and resilience in Botswana in the face of demographic transition. Dr Dinokopila decried the lack of laws that specifically spoke to the rights of older people to maintain and promote their rights, status, wellbeing, safety and their security.
Such led to abusive situations such as marginalisation, discrimination, neglect, isolation, poverty and depression as they age by family members, added Dr Dinokopila.
He noted that those receiving old age grants were also open to financial abuse by other family members and may not fully benefit from such income. He said the problem was compounded by apparatuses such as the police and social workers who were not specifically integrated to deal with specific issues affecting elderly people besides lack of knowledge on their rights and financials to engage law advocates.
However, the main concern for the elderly population was healthcare provisions and pension, said Dr Dinokopila. He further stated that health challenges for the elderly were aggravated by small pension schemes that covered very few people due to the informality of most livelihood activities and employment. He said most societies were predominantly rural and much of the population operated outside the security of formal sector and wage-dependent markets.
He also made number of recommendations aimed at improving the plight of the elderly among them awareness on ageing implications and that governments should include the ageing issue in policy planning by adapting national budgetary provision, boosting pension and social protection schemes, targeting health care, and supporting community and family care.
Clinical Psychologist, Ms Thato Molefi said elderly people were entitled to free health care in public health institutions but struggled to access quality care because of capacity constraints and age-related barriers to access.  She said Health services tended to be clinic-based and focused on acute conditions. She also said the health system did not have the capacity to deal with complex needs of older people with multiple continuing conditions. She also balmed healthcare workers' negative attitudes towards older people in that manageable health issues were overlooked or attributed to the ageing process, resulting in low levels of functioning, poorer health outcomes and diminished quality of life.
Meanwhile, Pabalelong Hospice Sister, Ms Vinayi Chalil, also drew attention to long-term chronic conditions associated with growing old, such as heart disease, cancer, respiratory, hypertension, disorders and dementia. She stated that problems such as HIV epidemics, poor education outcomes, unemployment, and lack of access to basic services and general poverty and working age group affected the youth to provide care for their elders. "Older people's pensions are also often shared within households to supplement other social grant and wage income," observed Ms Chailil.