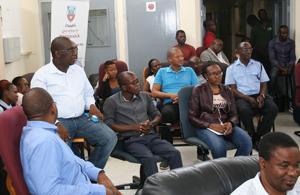 The Okavango Research Institute (ORI) has been described as a gem in the area of research in Botswana. Vice Chancellor, Professor David Norris, disclosed this during his two-day visit to the institute on April 5, 2018.
Professor Norris was at ORI to meeting with staff on matters and other issues related to their welfare. The Vice Chancellor said given its immense research output and ability to attract external research funding which stood at around 80 per cent, ORI had the potential to become one of the biggest research institute in the world. "We have a gem in ORI. There is a diamond here," remarked Professor Norris.
He commended the ORI staff for working hard on all fronts, saying their research output of about three to four papers per individual had the potential to raise the University of Botswana and the country's research profile. "We can elevate the profile of UB through ORI," he observed.
Founded in 1994, ORI is a research institute dedicated to the study of wetland and watershed management in the Okavango River Basin, SADC region and beyond. Consequently, Professor Norris appealed to the staff to be more aggressive in their proposals for external funding to turn ORI into one of the best research institute in the world.
He took advantage of the ORI visit to highlight the fact that UB must be seen to be a high performance institution, hence it was time to deliver and strive towards excellence as one of the anchors of the University's strategic pillars.
"We must rise up and come up with fresh avenues for income generation. Every little idea that you have that can help us generate money, please share it with us," pleaded Professor Norris.
Acting Deputy Vice Chancellor for Academic Affairs, Professor David Sebudubudu, who accompanied the Vice Chancellor on the trip, also impressed on the staff the need to work as a collective to take UB to a higher level. Professor Sebudubudu emphasised a good work ethic among staff because they were the face of the University and its Vice Chancellor.
ORI Director, Professor Joseph Mbaiwa, expressed gratitude at the Vice Chancellor for his visit, noting that it was the second in a space of two months, which showed that he had the institute and its staff at heart. Professor Mbaiwa said as ORI staff, they were eager to double efforts to increase their research output. He said even none academic staff were publishing papers in reputable journals.
Professor Norris and Professor Sebudubudu also had a brief interaction with distance learning students at Tsodilo Junior Secondary School and medical students at Letsholathebe Hospital, and were briefed about their welfare and other issues related to their learning.