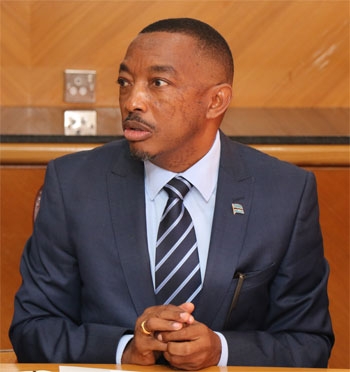 The Minister of Tertiary Education, Research, Science and Technology, Mr Thapelo Olopeng, has encouraged the University of Botswana to continue training and producing highly competitive students who could assist transform Botswana into a knowledge-based economy.
Mr Olopeng was speaking in a meeting with University of Botswana Executive Management, Student Representative Council and union leaders on February 26, 2019. The meeting was to discuss issues surrounding the academic environment and problems facing the institution.
Mr Olopeng said it was incumbent upon his ministry in collaboration with stakeholders such as UB to transform Botswana from a resource-based to knowledge-based economy. He also advised the executive management to remain transparent and honest on challenges facing the institution.
Responding to the minister, Vice Chancellor, Professor David Norris, acknowledged the challenges the University faced, ranging from student welfare, staff welfare, infrastructure and equipment. Professor Norris also acknowledged that the P900 million budget currently allocated to the University was far too less to offset its financial constraints.
"Ninety per cent of the budget is exhausted by salaries despite prudent financial management. However, we need to tighten up," said Professor Norris
He noted that aggravating the University's financial situation was the declined in student enrolment over the past years due to poor results from high school leavers who failed to meet admission requirements. Further, he added that faculties such as Medicine and Engineering were expensive to run.
Professor Norris said the University was in the process of reviewing programmes to make them relevant to the economy and attractive to students besides preparing them to be market ready.
"We want our students to be job creators instead of job seekers. We want to put them first and engage them. We also want to teach them new modes of learning such as problem based or blended learning including staff to teach in a way that prepares students to be market ready," said Professor Norris
Other challenges that Professor Norris touched on include shortage of staff and student accommodation, low living allowances as well as a 1.3 per cent ratio of international students which he said was enough.
Despite the challenges, Professor Norris was upbeat about some achievements such as engagement with industry, in addition to research that was informed by societal problems or industry needs such as production of Bio Diesel fuel.
The University also enjoys collaboration with international institutions and research funding from international organisations across faculties, he added.
Acting Deputy Vice Chancellor Academic Affairs, Dr Oathokwa Nkomazana, said faculties' were also challenged to be interdisciplinary. She also said they were introducing pharmacy programmes in Faculty of Medicine and raise number of graduate trainees to reduce running cost. On a positive note, Dr Nkomazana spoke about the UB Business Clinic that trained women entrepreneurs on business skills as well as sporting facilities that help to train and produce reputable athletes.
Dr Nkomazana said 80 per cent of the programmes at UB were Botswana Qualification Authority accredited with the rest awaiting accreditation. She appealed to the minister to consider establishing a research fund for both undergraduate and post graduate students drive innovation.
Deputy Vice Chancellor for Finance and Administration, Mr Mendel Nlanda, decried low salaries which failed to attract international scholars.
In response, Minister Olopeng advised the UB management to use the budget wisely because indications were that it would not be increased in the near future. He also urged the University to give students jobs especially maintenance works to assist them to gain practical work experience.
The minister further called for an integrated system between the Department of Tertiary Education Financing, UB and his ministry to curtail late registration, award of sponsorships and accreditation of student allowances.