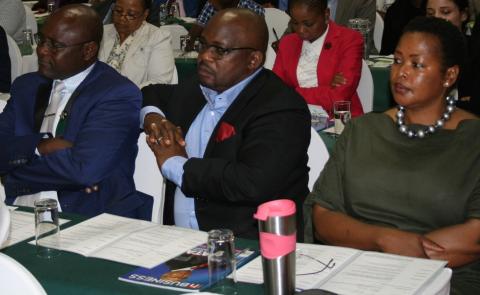 The Vice Chancellor, Professor David Norris, has decried the dearth of proper and comprehensive research that can help to develop and grow Botswana's tourism industry. Professor Norris was delivering a keynote address at the official opening of the 2018 Hospitality and Tourism Association of Botswana (HATAB) Annual Conference in Maun on May 4, 2018.
He highlighted the importance of research in knowledge management and decision making in the tourism sector, but regretted that data on tourism was limited in Africa given the lack of appreciation of its benefits in the industry. Where there had been research, the Vice Chancellor lamented that it was fragmented and therefore yielding scanty data.
He observed that in the worst case scenario, the data was either unreliable or even non-existent owing to the fact that businesses worried more about cost implications than benefits thereof. As such, Professor Norris called for a comprehensive approach that brought together all stakeholders for a value chain analysis and proper knowledge management.
He further underscored the need for robust research methodologies to address questions of whether Botswana's tourism industry had marginalised the poor or whether the industry players were doing enough to promote other areas of tourism apart from wildlife.
Speaking to the theme of the conference – Communication, Information and Education: Powerlines of Tourism Development - Professor Norris indicated that communication of research findings was still a problem in Botswana. He said while institutions such as the Okavango Research Institute (ORI) conducted research on a number of areas in the tourism sector, the uptake by industry was disappointing.
ORI Director, Professor Joseph Mbaiwa, also expressed disappointment at Botswana's 28-year old Tourism Policy that it had retarded the growth of the industry. Professor Mbaiwa said review of the policy was long overdue because it was no longer serving the interests of the industry.
He said on the face of it, Botswana might be deceived that its tourism industry was growing, but comparatively it was suppressed given that over the years there had been a decline in tourism arrivals while the country's global share in the industry remained very low.
In addition, Professor Mbaiwa argued that Botswana had not adequately taken advantage of its tourism potential owing to the outdated policy. Therefore, he called for the review of the policy because it was important for the development, management and promotion of the tourism sector.
Through the revised policy, the industry could also respond to issues of diversification, sustainability, economic efficiency as well as social, environmental and cultural challenges to eventually put Botswana in a competitive mode, said Professor Mbaiwa. Further, he highlighted that such was not the government's role alone but all industry players as well.
Human Resource Development Council Chief Executive Officer, Dr Raphael Dingalo, emphasised the need to strengthen the tripartite alliance of the private sector, government and academia in the development and growth of the tourism industry.
HATAB Chairperson, Dr Thapelo Matsheka, decried the lack of consultation, and accused government of making unilateral decisions on key issues affecting the tourism industry. Dr Matsheka also suggested that some tourism events that government hosted through the
Botswana Tourism Organisation using taxpayers' money should be hived off to the private sector