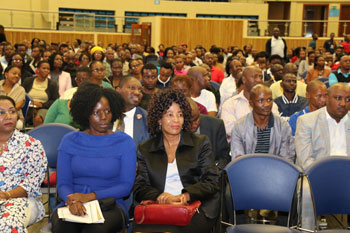 Vice Chancellor, Professor David Norris, has appealed to graduate students to channel much of their energies towards research to turn the University of Botswana into a research intensive institution.
Speaking in a meeting with graduate students on April 10, 2019, Professor Norris said such research must have societal impact and add value to communities by solving their day to day problems.
 The Vice Chancellor met graduate students to share his vision and challenges the University was facing especially pertaining to services delivery. He told the students that as a new leader, his vision was to turn UB into a research intensive institution.
Consequently, such a milestone could only be achieved through intensive research and channelling of more resources towards graduate studies, he said. The Vice Chancellor said in 2018 UB enrolled less than 254 graduate students, which he observed as way below an institution that envisioned to be amongst best in the world.
"Hence that is why I have doubled numbers this year to have over a thousand graduate students enrolled to intensify our research efforts and ranking," said Professor Norris.
He said the proportion of graduate students must be equal to the total number of student enrolment. "We should at least have 40 per cent not 10 per cent because that is not enough. In the next ten years, we should have elevated the numbers to 50/50," observed the Vice Chancellor.
He said UB was not doing well compared to other Universities in the region notwithstanding the wealth and quality of resources it was endowed with.
Other issues Professor Norris touched on, included the welfare of graduate students. He said accommodation for the students was one of the key factors that contributed towards university rankings hence they were in a process of improve such.
He added that once that was sorted out, it would assist graduate students to have easy access to resource such as the library, Internet, laboratories as well as their supervisors. He also told the students that the University was working with industry to revise its programmes to meet industry needs and conform to the 21st Century.
Professor Norris urged the graduate students to be creative and innovative. He encouraged them to sign binding contract with their supervisors, adhere to requirements and commit to their work.
In response, the students said there were challenges affecting customer service such as long queues for registration, inadequate IT services and frequent changing of supervisors which negatively affected their studies.