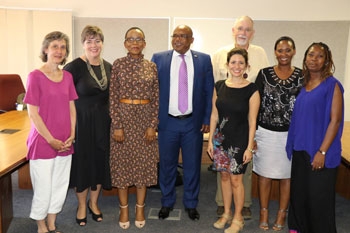 Fulbright Scholarship representatives from the Embassy of United States of America visited the University of Botswana Vice Chancellor, Professor David Norris, on February 27, 2019 to give an overview of the scholarship and to explore possible areas of collaboration in teaching and research.
Speaking during the occasion, the US Embassy Public Affairs Officer, Ineke Stoneham, said over the years the number of scholarships awarded have grown from a maximum of two to five people per annum. She also said most of the researches (70%) had been science/social science-based, including HIV and population studies.
Meanwhile, Professor Norris appreciated the initiative by the Fulbright representatives because he said it would assist in capacitating UB to improve its curriculum, research grants, online teaching and learning technologies.