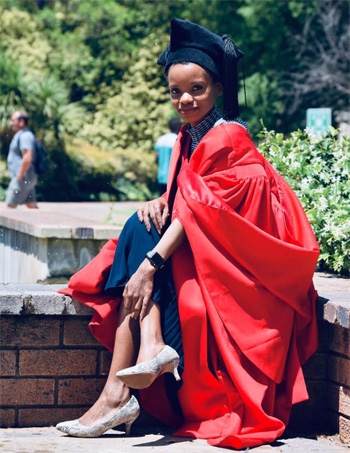 Indeed they do! She is just 29 years old but she already wears the title and she is addressed as Dr Tshepo Tshepi Mogapaesi. This makes her one of a few, if not only the third Motswana woman to have attained a PhD in Law before the age of 30 years.
"I'm so glad to share good news. I just graduated with PhD in Law from North West University at just 29 yrs. I have added to a few black women in Africa who have PhDs before the age 30 years. I am one of a few Batswana women with PhDs in Law (I know only two)," says Dr Mogapaesi who is now a lecturer in the University of Botswana Department of Law.
A 2012 University of Botswana Bachelor of Laws Degree graduate, Dr. Mogapaesi's passion for legal academia was unearthed when she undertook her LAW 535 mini-dissertation project as part of her LL.B programme under the supervision of Dr. Rowland Cole.
She says Dr. Cole encouraged her to consider enrolling for a Masters' Degree upon completion of her LL.B Degree. Acting on the advice of her former supervisor and the zeal to follow her passion, Dr. Mogapaesi registered for a taught Masters in Labour Law with the North-West University (Potchefstroom Campus) in South Africa in 2013.
As the only international student in the Labour Law class, Dr. Mogapaesi says she enjoyed her studies in South Africa because she was warmly welcomed and received tremendous support from the North-West University (NWU) academic and support staff.
As part of her Masters' programme, she authored a mini-dissertation under the supervision of Dr. Anri Botes which interrogated the failures of the Employment Act of Botswana to address sexual harassment in the workplace.
Upon completion of the Masters programme, Dr. Mogapaesi says she wanted to challenge herself and fully harness the passion she had for legal research. As a result, she registered for a Doctor of Laws programme with NWU and successfully graduated at 29 years old, making her the youngest and third Motswana woman to obtain this highest qualification in law.
Her doctoral thesis sought to argue for the use of labour law as an avenue to address forced labour in South Africa, which she found to be popularly addressed through criminal law. This argument derives support from the fact that whilst forced labour is a criminal offence, it results in the violation of the labour and employment rights of its victims, and the criminal law approach barely addresses these violations. She also argues for the establishment of a separate legislative framework addressing forced labour that is separate from the human trafficking framework. Her doctoral thesis promoter is Dr. Anri Botes.
Dr. Mogapaesi has been working as a full-time lecturer in law at UB for two years and says that for now she is interested in developing her academic career. She regards herself as a social justice enthusiast and humanitarian.
She is a feminist, and is interested in using her academic career to advocate for the rights of women and to empower the girl child in Botswana. Dr. Mogapaesi says she has always received strong support from her family, and that her parents and siblings had always supported her dreams to be what she is today.