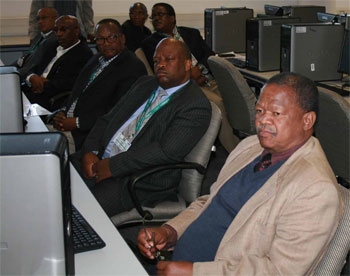 The Department of Computer Science is working on re-structuring its programmes to accommodate four new specialisations which include BSc Computer Science in Cyber Security, Software Engineering, Intelligent Systems and MSc in Data Science for the academic year 2019/2020.
 Head of the Department, Dr Audrey Mazizana, disclosed this at a three-day workshop the Cyber Security Cluster of the department organised to capacitate Botswana Defense Force (BDF) senior officials on cyber security at UB on June 27, 2018.
"It's our mandate to empower our students with necessary skills, hence the Degree in Cyber Security. The degree aims at contributing towards reduction of the cyber security skills gap in the country and provides [graduates] with solid knowledge on cyber security issues and hence give them the necessary skills to combat cybercrime and its related challenges," said Dr Mazizana
The workshop brought together 35 senior BDF officers to capacitate them on the need, implementation and operation of Cyber Security Operations Centre (SOC).
The workshop covered topics such as cyber security threat landscape and the need for implementing cyber defences, cyber security capacity building and planning a SOC, Implementing a SOC and Operating a SOC. Dr Mazizana also said they realised that it was high time they addressed cybercrime given its escalating record globally and coasting global economies trillions annually. She also added that there was a global demand for cyber security skills for countries to control cyberspace to harness the cyberspace for broader economic and social development.
Dean of the Faculty of Science, Professor Julius Atlhopheng, said Information and Communications Technologies (ICTs) were an integral part of life in that they had transformed the way people communicate, run governments and do business. Professor Atlhopheng added that ICTs had introduced new ways of creating knowledge, educating people and disseminating information.
He said access to information and knowledge was necessary for the achievement of Sustainable Development Goals because of their capacity to improve living standards of many people, especially developing economies.
"However, the challenge facing the world today is how to mitigate the negative consequences that ICTs inadvertently bring with them," said Professor Atlhopheng.