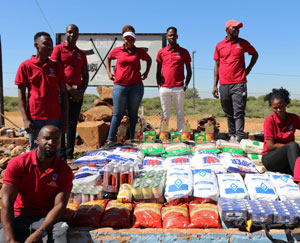 The Career and Counselling Centre in partnership with Celiat (Pty) Ltd donated food, blankets, toiletry, clothes and tables worth P30 000 to Gamodubu Child Care Centre on April 27, 2019.
Gamodubu Child Care Centre is a nonprofit organisation established in 2009 to improve and protect the lives of vulnerable children of Gamodubu and surrounding areas. Some of the children housed at the Centre are orphans while others are young mothers some of whom are HIV positive. Some children as well come from poor families and the streets while others have challenges of distance and transport travelling to.
Careers and Counselling Centre Director, Dr Lucky Odirile, commended UB Clubs for their tireless efforts towards extending a helping hand to Gwamodubu Child Care Centre annually.
Dr Odirile also urged the students to raise public awareness about the center and its plight. Regarding the donation, she said it was in line with UB mission of engaging the community besides giving back and addressing pressing community needs.
During the same occasion, Dr Odirile commended Faculty of Medicine students for finding it fit to donate P40 000 which was used to renovate some structures, installing electricity in some buildings and partitioning the compound at the centre.
Meanwhile, the center's co-founder, Mrs Shilley Madikwe, applauded Dr Odirile for her loyalty to the center and her commitment in appealing for donor assistance since its establishment.
"She is the pillar of Gamodubu Child Care Centre," said a joyful Mrs Madikwe.
Highlighting some of the centre's achievements, Mrs Madikwe stated that some of their students have made it to tertiary and vocational schools.
Other activities which took place as a show of love and support by UB students to the Gamodubu Child Care Center included playing games, haircutting and tutoring on various subjects.