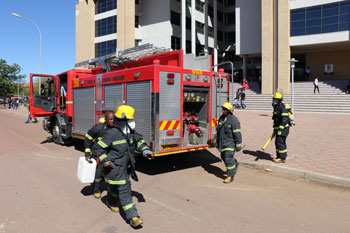 The Department of Campus Services tested their readiness against fire outbreaks by embarking on fire drills and victim evacuation exercises at Block 247 on April 17, 2019.
The Department partnered with stakeholders such as Botswana Police Services, Botswana Defense Force, Med Rescue and Gaborone City Council Fire Services Department.
Fire experts demonstrated various ways of extinguishing fire and victim evacuation, among others.
Speaking at the drill, UB Environment and Safety Manager, Mr Kgositsile Bopadile, said fire drills were an important part of fire safety procedures for many reasons.
He said not only did they ensure that all staff, students, customers and visitors to the premises understood what was required in the event of a fire. He further said they also helped to gauge the effectiveness fire evacuation plans hence improve certain provisions.
"It also helps to ensure that fire alarms are working, check other equipment such as fire door retainers, which are usually released when a fire alarm sounds. If we find any malfunctioning with any of our equipment, we will take immediate action to replace it or get it fully checked out if it can be repaired," said Mr Bopadile.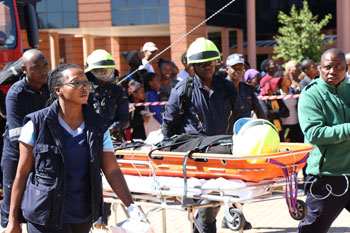 He added that knowing how often to carry out a fire drill depended on the level of risk in a building, with a minimum of at least once a year. He also said if there were customers on the premises, such as in a shop or restaurant, one must try to schedule fire drills taking such into account.