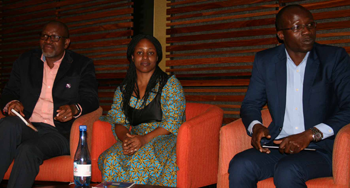 Two University of Botswana academics have joined hands with research scholars from other African countries and the US to work on a collaborative project that is envisaged to take youth development through sport to a new level in Africa.
This emerged at a panel discussion the University of Botswana organised in collaboration with Ms Tsoseletso Magang at the UB Conference Centre on June 24, 2018.
The academics are senior lecturer in the Department of Physical Education, Health and Recreation, Dr Tshepang Tshube and senior lecturer in the Department of Management in the Faculty of Business Mr Thuso Mphela.
They duo has joined hands with Michigan State University, Department of Kinesiology's Professor Leapetswe Malete, University of Ghana Professor and Head of Physical Education & Sport Department College of Education, Professor Reginald Ocansey, and College of Engineering and Technology (CoET) lecturer at the University of Dar es Salaam in Tanzania, Ms. Juliana Machuve.
The youth development programme is a sequel to a study carried out in southern Africa under the auspices of the Alliance for Africa Partnerships to teach entrepreneurship and life skills through sport.
In addition, the Olympians retirement transition and post sport experiences were also examined. Some major findings in the study include the role of the school system and national sport federations. The study offers promise for context specific research to explaining career path and post-sport transition in the local sport.
Presenting at the panel discussion, Dr Tshube underscored the importance of according youth in sport life skills. Dr Tshube said in their study, they worked closely with Botswana Integrated Sport Association president, Mr Joshua Gaothobogwe during piloting where 25 teenagers participated in the programme for a period of two weeks. He
Professor Malete also buttressed Dr Tshube's point, saying life skills that could be developed through sport in young people included decision-making, goal setting, communication, time management as well as business planning. Through transferable skills learned through sport, Professor Malete, said Africa would also be able to transform its youth.
"Africa would realise this transformation only if the youth is active in decision-making bodies," he added. Consequently, statistics indicate that Africa is home to the world's youngest population with 63 per cent estimated to be under the age of 25.
Professor Malete said his experience in the US and in collaboration with relevant stakeholders such as financiers, motivational speakers, coaches, he remained optimistic that the project would reach every corner of Botswana and yield tangible results. Currently the programme is being piloted while lobbying for policies to infuse it into the school curriculum is underway as well.