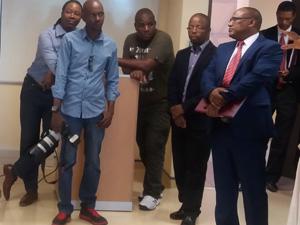 The University of Botswana is on the verge of producing a Lumpy Skin Disease Vaccine, the Vice Chancellor, Professor David Norris, told journalists during a media briefing in the Council Chamber on February 9, 2018.
The media briefing was part of Professor Norris' tour of duty to take the University to Batswana. He said the University has applied for patents for the vaccine and it was the advanced in that it did not require refrigeration during storage.
Another milestone in research, he said, was the setting up of a 20KW solar plant at Mokolodi village which was benefitting the community by powering the kgotla offices. Professor Norris observed that this was part of UB's research programme to promote the use of alternative sources of energy in Botswana.
He said in addition to solar energy, UB was working on the production of biofuel using the Jatropha seeds. In 2016, the University launched an experimental vehicle that uses biodiesel fuel following a feasibility study in 2007 on the production and use of such fuels in Botswana.
The Vice Chancellor expressed delight that recently the Okavango Research Institute managed to attract P16 million external funding, while the School of Medicine was able to garner P11 million from external sources as well for research work. He added that since its inception, the School of Medicine has graduated 24 medical specialists, which was a major milestone in the development of the country's health system.
The Vice chancellor further told journalists that UB was taking cognisance of the ever-changing socio-economic environment. In this respect, it was constantly reviewing its academic programmes to offer relevant courses.
He emphasised that programmes that UB offered should be informed by societal needs, which therefore meant that the University must make research a priority. The intention was to significantly increase the number of graduate students which currently stands at 2000, as well as strengthening graduate programmes.
Professor Norris said it was also important for UB to embark on research that led to product development coupled with the commercialisation of such products to generate income and the self-sustenance of the University.
To enhance its research programmes, he said the University has signed a number of collaborative agreements with other universities around the world. Regarding the lower student enrolment, Professor Norris observed that the University would only offset such by introducing 'exciting' programmes to attract more students at both under graduate and graduate levels.
After the briefing, the Vice Chancellor took some members of the media on a tour of the University. Professor Norris said his desire was to work with the media to take UB to another level.