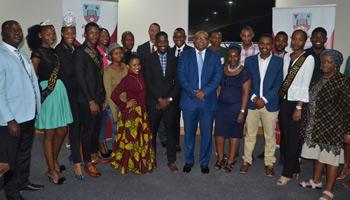 The Vice Chancellor, Professor David Norris, has assured student leaders that he was committed to working with them cordially to improve their participation in the University governance and its functioning.
Professor Norris was speaking during an introductory meeting with the newly elected 2018/2019 Student Representatives Council, Graduate Students Association, and Mr and Miss UB Intervarsity Winners at the Administration Block on May 25, 2018. The meeting was organised and facilitated by the Department of Student, to introduce the newly elected student leaders as well as to seek ways of improving and strengthening their relations with management.
Professor Norris said it was important for the University to engage and work cooperatively with student representatives and treat them equally with the respect they deserved. He also said it was important to improve their participation on matters that affected them since they were the primary stakeholders.
"Students as clients of the University have a right to participate in making decisions that influence them. Their involvement does not only ensure representation of their interests but also provides opportunity to learn how the University works and ensures development of leadership skills," said Professor Norris.
He also urged the student leaders to lead by example by excelling academically and ensuring that teaching and learning took place in a conducive environment. He further urged them to guide new students and to be willing to assist or work together.
The Vice Chancellor was accompanied by Acting Deputy Vice Chancellor Students Affairs, Mrs Motsei Rapelana, Deputy Vice Chancellor Finance and Administration, Mr Mendel Nlanda, Acting Deputy Vice Chancellor Academic Affairs, Professor David Sebudubudu and Public Affairs Director, Mrs Mhitshane Reetsang.
Professor Sebudubudu said he was looking forward to working positively with the new student leaders and promised to give them maximum attention to be able to account for their work. He also urged them to resolve their challenges with management in an amicable manner to ensure the smooth running of the university.
"Part of your responsibility is to ensure that there is stability in the University of Botswana and we should work towards promoting the mission, vision and VC's vision of turning the University into one of choice," said Professor Sebududbudu.
Acting Deputy Vice Chancellor Student Affairs, Mrs Rapelana, also encouraged the student leaders to join departmental and faculty committees for their voice to be heard, and to get first hand information to avoid fake news.
Mrs Reetsang and Mr Nlanda also shared the same sentiments and urged the student leaders to create an environment conducive for learning, personal development, besides building the image of the University to consequently afford other students a chance to shine beyond the institution.
SRC President, Mr Mpho Molokwane, applauded Management for their appreciation, support and willingness to engage them on governance and functioning of the University. He also promised to cooperate with the University management in dealing with issues that affected students and resolving them amicably.