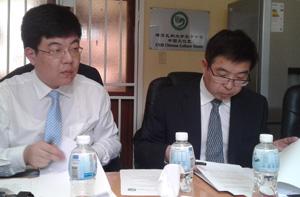 The Confucius Institute in the University of Botswana is making great strides in advancing the Chinese language and culture in Botswana. This emerged at a CIUB Advisory Board meeting at UB on February 8, 2018. The meeting was attended by members from UB and Shanghai Normal University.
According to CIUB Director, Professor Part Mgadla, so far the institute has been able to expand its Chinese programme to members of the Botswana Police Service, Department of Immigration and the banking sector, among others. That, he said, was in addition to cultural tours to schools around Gaborone.
The intention is to build on this success and expand Chinese teaching centres, and embark on more cultural activities this year, said Professor Mgadla. Besides, the plan is to work closely with the Chinese Studies Department to strengthen their programmes and share resources. It was observed during the meeting that 2017 was a successful year for the Confucius Institute in that it managed to execute all planned activities.
Acting Deputy Vice Chancellor for Academic Affairs, Professor David Sebudubudu who chaired the meeting, commended the Institute for a sterling job over the years. Professor Sebudubudu gave the staff a pat on the back, saying through support from Shanghai Normal University they were doing both universities and their countries proud.
He said the partnership between the two universities must now be taken to another level to benefit Botswana and China. "We want to look back with pride, hence we must grow our partnership further because we are doing it for both our universities and countries," said Professor Sebudubudu.
International Exchange Division Vice Director, Ms Helen Zhang, Chief Financial Officer, Mr Guangming Cao and College of Information, Mechanical and Electrical Engineering Vice Dean, Pan Ton, attended from Shanghai Normal University.