Introduction
The University of Botswana (Mmadikolo) welcomes all its 2017/18 new students with our moto 'Pula'. We are proud to have you join our community and are excited of the journey that lies ahead.
The university values its students and has a vision of graduating excellent students in Africa and beyond. The mission that guides the university work each day is to contribute to the socio economic conditions of the nation by offering a range of learning opportunities.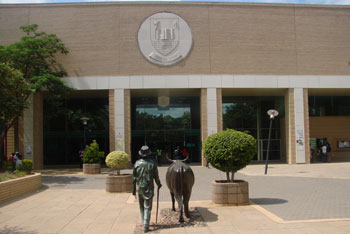 The information below seeks to provide guidance to new students and key contacts for various services meant to inform and guide their stay. Students are requested to read the information thoroughly as it will help with their smooth settling.
Before arrival at UB
Students should familiarize themselves with contents of this letter so that they know where to go and who to see. Registration Dates are attached to this information for checking programs and noting the dates to arrive on campus. Students should only arrive on dates stipulated as the university does not offer any accommodation prior to the dates. International students who by virtue of their flights are unable to arrive on the specified dates should contact the International Office for temporary accommodation arrangements in liaison with Accommodation Office. Such students will be charged daily rates for accommodation for the few required days. The arrangement is only available to international students.
On arrival at UB
New students should seek for assistance from security personnel located at all UB entrances. There will also be Peer Orientators (PO's) around campus, recognized by t-shirts or aprons written: 'Ask me about registration.' These are senior students who are familiar with the university systems and registration procedures. They will guide students and answer any questions and make referrals to appropriate offices. No fees are to be paid for these service.  Students are discouraged from seeking help from just anyone around campus except PO's and Officers.
Academic registration
For the registration of courses students are advised to go directly to their Faculties and ask to see Faculty Administrators. They should ask security, PO's or at an Information Desk in the Student Centre for locations of their faculty. Students should make all necessary inquiries about course requirements and timetables before they register to avoid inconveniences.
Students Welfare
The Student Welfare office (located in block 139; the Student Centre building), is responsible for the welfare of all students enrolled at UB under the Division of Student Affairs. The Department works closely with all administrative and academic departments to assist students to settle smoothly and adjust to the university culture and community. Key contacts of all relevant departments are attached as well as the university general line.  The office provides the following services: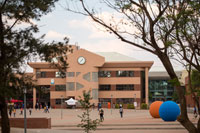 Coordinates orientation of new students to familiarize them with the university and available services 

Works jointly with other service providers to advice students on non-academic matters and make referrals to appropriate service providers on campus or in the community.

Responds to questions, concerns and requests for information from prospective and admitted students on welfare matters. An information desk is available during new student's arrival located in the Student Centre.

Processes requests for accommodation on campus.

Ensures creation of a conducive living & learning environment for students

Ensures the general welfare of students in terms of convenient services including healthy food options in student refectories and student centre.
Accommodation on-campus
Under the Department of Student Welfare, the university offers on-campus accommodation on shared basis for undergraduates and single apartments for graduate students. There are limited bed spaces on-campus and students are required to make effort to find alternative housing. A list of possible apartments within close proximity to the university is attached for students to make their own inquiries.  For on-campus accommodation, students indicate their preference when they accept the admission offer.
Accommodation Applications
Students apply for accommodation within campus and should bring along copies of their admission letter and sponsorship letters for government sponsored or receipt of payment for self-sponsored students. Applications are processed during working hours (0800 – 1630 hours, Mon-Fri) at Block 247 using online services and the university provides the resources for the purpose. Staff will be available to assist students. Feedback on applications will be received within a day i.e. the following day after receipt of applications. Feedback s sent using SMS- student's mobile numbers. Students should therefore ensure they have alternative accommodation while awaiting feedback.  Students who wish to stay on campus are allowed to register for residence before the academic registration.
Accommodation Timelines
Students who receive their sponsorship letters earlier than their dates of registration are allowed to come and apply for accommodation. The Residence Management System (RMS) used for registration can only be accessed within the university campus. Students should print acknowledgement receipts after completing their applications for confirmation and any necessary follow-ups. Accommodation applications end within deadlines stipulated in the registration dates attached.
Undergraduate halls of residence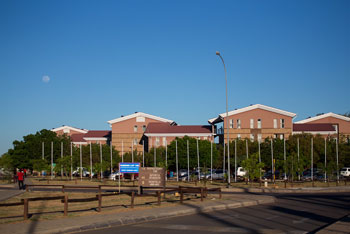 Most rooms are allocated on a sharing basis of 2 students per room. Where there are challenges preventing a student from sharing, Student Welfare Office should be contacted with evidence or letter of support from authorized personnel.  Students in each floor share other facilities; lounge and bathroom facilities. Due to the small space, students should avoid bringing too much stuff. Clearance from rooms is done at the end of each semester and students should remove all belongings. Failure to do so carries fee consequences for overstay calculated per day. Note that, cooking is not allowed in undergraduate residential halls and all guests must leave at stipulated times, otherwise both the student and the guest will face fines including losing the allocated space.
Graduate halls of residence
Reserved solely for graduate students, these are self-contained apartments with each student having their own room but sharing facilities such as stoves, fridge and bathroom. Students should bring their own cooking utensils. Due to limited space, avoid bringing too much stuff.
 Fees
University Fees may change each academic year. It is therefore necessary for students to confirm such fees from the university website under fees schedule or contact Financial Services from the list of contacts provided.
Refectories or Dining Halls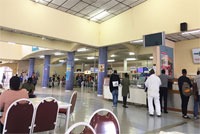 Students have a choice of taking meals at any of the two refectories on campus. Breakfast, lunch and dinner are served only during the semester. Students are expected to make their own arrangements with the refectory of their choice as regards their daily intake of meals and payments.  The Student Centre also has a number of Food courts for students. To ensure food hygiene and access to healthy meals, students are encouraged to take their meals within campus facilities.
Residence life
The University provides bedding as well as laundry services for students residing on-campus. Such have to be returned at the end of each semester. Additional useful information for Residence Life:
Wardens, Admin Assistants (staff members), & Resident Assistants (RAs-student support

): Their role is to support students in the halls of residence. Students should know them and raise their concerns through them. There will be residence orientation in August and students will get to know these key staff and expectations.

 Keys: The university residences have a padlock system and therefore students should bring secure padlocks on arrival. Security for belongings is paramount and no luggage should be left unattended or rooms unlocked. Keys should not be shared.

Laundry procedures:

pay per use slot machines are available in the Laundromat. In addition each block has a small hand wash basin.

General Cleaning:

Dorms are cleaned by staff twice a week. Students are required to clean their dorms in between. The relationship between Domestic Assistants and students are expected to be that of mutual understanding and respect.

Maintenance:

All maintenance issues need to be reported to the RA, who normally will have the forms for the purpose or the Admin Assistant during the day.

Living and Learning Communities:

The Department of Student Welfare runs a students led programme called living and learning Communities in Residential halls. You will become a member of your block community to network with others and learn together.  The program has been quite beneficial to most students and off-campus are allowed to join communities' on-campus. The program emphasis learning outside the classroom and students gain social and life skills.
Devices that could be brought by undergraduate residents
There are some guidelines for students residing on campus on what is permitted. This can be obtained from Student Welfare office during working hours, or accessed through the UB web site, Student Welfare page. Anything brought to campus which is not permitted constitutes a breach of the guidelines and disciplinary action will be taken accordingly, including confiscation of the devices. Acceptable items include under the bar fridge-check with your roommate if you can share one to avoid overcrowding your room. No cooking devices are allowed due to fire hazards.
Internet access in rooms and on campus
Students can bring their laptops but register them immediately with security. Never leave any item unattended. Some rooms have internet access while others don't. The University is working on widening internet access through wifi in dorms and across campus. Therefore, at the moment there is no guarantee that all students will have access to internet in their rooms. However, computers at the library and in Faculty laboratories have internet access. There are also numerous internet cafes around the city with free wifi's for their guests.
Orientation week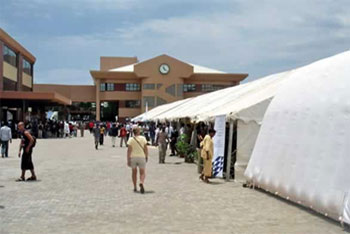 The Department of Student Welfare coordinates an orientation week meant for new students. There are various activities held during the first week to familiarize new students with university services. Students also have an opportunity to be addressed by the University executive management including the Vice Chancellor. The orientation sessions are compulsory and should not be missed. A program is attached but students should check the UB website for updates. 
Shopping for essentials
There are various shopping complexes around the university. The nearest are River Walk and Main Mall and are less than 2 kms away.  Food, utensils, clothing, toiletry, electronics, and much more can be purchased there. There are also a number of restaurants, and a multiplex cinema.
Safety and Security on campus
There is an on-campus Protection services available 24 hrs. Their offices are centrally located within campus and contacts are provided on the list attached. Students are advised to be very cautious as UB is an open campus. They should safeguard their belongings and be aware of any suspicious acts or anyone trying to solicit money from them.  Fees for UB services are only paid in cashier's offices and receipts are issued. Where one is uncertain, help should be requested from Protection services, PO's or in offices around campus.  Security patrol students' hostels and the rest of campus. Any suspicious request or move should be reported immediately. Security also offers escort services to students after dusk from all buildings including the library. 
University Clinic
The University has a health facility on campus with medical doctors and nurses and is accessible to students 24 hrs. The clinic has an ambulance. Other facilities include a government hospital which is half a kilometer away and a private hospital about 2kms away. Only students enrolled in UB programs are covered and have access to the university medical facilities. Major medical problems such as operations or overnight stays are only available in hospitals.
Sports & Recreation
Sporting facilities such as an indoor sports arena, a stadium with capacity for track and field events, an Olympic size swimming pool, a gym, outdoor courts for table tennis, tennis, volleyball, boxing, netball and basketball and indoor courts for badminton, aerobics, as well as weightlifting are all available for access by students as per the rules of using such.
Learning Support
The university has various departments that provide services to students including the Library, Academic Development (CAD), Information Technology, Careers and Counselling, Health and wellness, HIV /AIDS Office, International Education and Partnerships, Disability Support Services, Academic Services etc. All these support the teaching, research and learning mission of the university by facilitating access to information resources. Students should be on the lookout for orientation sessions from these various departments. Some require registration for specific groups e.g. Students living with disability should register with the Disability Unit immediately on arrival or even prior to arrival to assist with assistive technologies for their learning and all international students should register with International Office. The student Centre has various services too to support students such as Post Office, Banks, ATMs.
Bookstore services
The university has campus based bookstore services and students have an option to purchase their course materials from these providers. Government sponsored students are given some book allowances to help with purchasing books. Students are therefore expected to buy required course materials in order to be ready for learning.
Volunteerism and leadership opportunities
UB promotes student experience through active involvement. It is important that students get involved by volunteering or competing for available student leadership positions. Volunteering can be done in any department of the university with available slots. Students may also apply for part time student employment opportunities which could also add to their work experience. Be on the lookout for these opportunities or contact Student Development Unit in the Department of Student Welfare (contacts attached).
Student Representative Bodies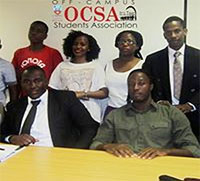 There are two key student representative bodies; The Student Representative Council (SRC) catering for the welfare of the undergraduates and Graduate Student Association (GSA) for graduates. Students should know their key representatives and work cordially with them to support the university mission. Contact details are attached.
Student Clubs/Associations
The university boasts of over 50 student clubs and associations amongst them academic organizations, arts, societies, religious organizations and many others. These are coordinated from the office of the Student Representative Council (SRC) under the Department of Student Welfare, Student Development Unit. UBOSCA is an off-campus student association and all off-camp students should register to be members.
 Living and learning Communities (LLC) is a student run program based largely in residences but has some off-campus groups too.
Key Student Policies
All students are expected to be well versed with policies guiding their studies at UB to resolve issues amicably and avoid unacceptable conduct. Most of the policies are found in a booklet called 'Student Handbook' which is found on the Student Welfare website, Student Development Unit, SRC and GSA offices.  Some of the key policies are; General Academic Regulations, Student Code of Conduct, Guidelines and Procedures for Resolution of Student Concerns, Residence Rules and Regulations, Examination Regulations, Procedures and Arrangements. Academic Appeals Policy and Procedures, Academic Honesty Policy, Sexual Harassment Policy, Policy on Students with Special Needs, Student Employment Policy, etc.
Student Code of Conduct
As an institution of higher learning the university has expectations for its students and encourages rights with responsibility to promote students development and success. As a result, all should be familiar with the expected way of conducting themselves while studying in the university, a Code of Conduct is available for guidance on expectations.  A copy is available on the Student Welfare website and copies can also be borrowed from Student Development Office, SRC and GSA offices. Any breach to the rules will attract disciplinary measures that may include termination of studies. However, the university is committed to student support and wishes to work with its students as partners in promoting learning and helping them succeed in their studies and in life.
Maintaining updated contacts
Students should aim to provide up to date contacts, mobile numbers and parent's contacts that could be contacted during emergency. It is very pertinent that Student Welfare Office keeps up to date contacts for students. If there are changes to such numbers during the course of stay at UB, urgently make sure the department has the updated contact. The university cannot be held liable if a student has failed to provide such contact and there are delays in contacting them or key people during emergencies.
The university communicates with individual students through the university student email and their mobile numbers (sms system). Constantly check your email for all university related correspondence. Note that the Student Representative Council handles postal address matters for students in liaison with the Post office.
Custodian of university affairs
The university has various key management structures amongst which are as follows:
Directors: They head departments offering various services.
Deans: They head all different Faculties.
Deputy Vice Chancellor, Student Affairs:  Main overseer of Student Affairs matters
Deputy Vice Chancellor, Academic Affairs: Main overseer of Academic Affairs matters
Deputy Vice Chancellor, Finance & Administration:  Main overseer of Finance and Administrative matters
Vice Chancellor:  Main overseer or CEO of all university affairs.
Emergency phone numbers:
Contacts for all key personnel and emergencies are attached. Keep them safely for easy access.
Conclusion
All our new students are welcome to MmaDikolo, your new home away from home! The university community is here to support you and make your studies enjoyable.
B. M. Pansiri
Director, Department of Student Welfare
DIVISION OF STUDENT AFFAIRS.